Art Deco Glass is an amazing array of glass that has become almost as famous as the Art Deco era it envisioned.
The early designs of what is deemed Art Deco glass were actually Victorian windows and had much softer, subtler floral themes than the bolder more striking exotic colour mix of the art deco period.
Looking for Beautiful Art Glass? Come and explore our Art Glass Shop.
Art Deco glass is about sharp interlacing lines with bright yellows, oranges and greens. The great thing about the Victorian house windows and doors is that they used these bold colours but in a small way that didn't dominate the visual impact of the front of these houses.
Nowadays, there is a lot more room for the expression of individuality in new builds and renovations. Often the original features are thrown out in favour of something more boisterous and dynamic than the tame fashions of some periods in years gone by. Art Deco imbues a sense of luxury, razzmatazz, glitz and glamour and enables a certain amount of artistic exuberance.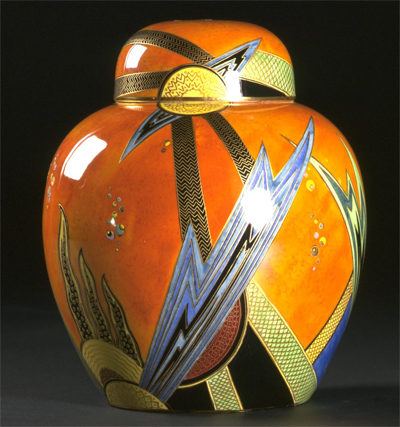 Art Deco Glass Designs
True Art Deco glass designs will need to be commissioned as they were never that widely used for house windows and doors at the time. The sharp zigzagging patterns that epitomize Art Deco were widely incorporated into municipal buildings and more into the architectural fabric of the building than the glasswork.
Any one who has followed the M4 all the way in to London will have driven past one of the UK's most famous Art Deco edifices – The Hoover Building. The Chrysler building it isn't, but it is still a classic example of the exuberance of that amazing era.
Many people look for a combination of Art Deco striking lines with some of the circular attractiveness of the late sixties onwards. From sixties Polka dots to Nineties spirals. The noughties are all about recycling the ideas of the past and perhaps this is why Art Deco glass is having something of a resurgence.
To find out more about the Art Deco movement, see this section of the V&A website