Crystal Cremation Urns 'Linum' by Caesar Crystal Bohemiae
These crystal cremation urns by Caeser Crystal Bonhemiiae will honour your dearly departed family member or pet. A work of art in their own right and a wonderful way to treasure the memories of those who have passed.
These urns have a lovely round shape and a perfectly fitted lid with lines engraved deeply into the main body.  Made with incredible precision and attention to detail and available in three different colours.
N.B. Please allow at least 5-10 working days for delivery.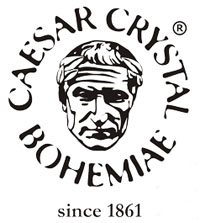 Crystal Urns from Bohemia
These urns are hand made by introducing layers of clear and colourful crystal together at 800 degrees °C. This 'flashing' glass is difficult to create and only a few skilled glassworkers are capable of performing this process. Each luxurious piece comes with a certificate of Bohemian authenticity.
Exceptionally skilful master craftsmen and women make these pieces. Even today, modern manufacturing cannot replicate this awe-inspiring process.
You can find out more about the history of Bohemian Glass Crystal here and more about Bohemia here.
The Czech Glass pieces are taken from the fiery furnace and left to cool. Only then does the glass cutter begin their work. These elegant works of art are so finely cut the light catches them beautifully.
These are the most exceptional pieces of luxurious Glass Crystal Vases that we have encountered and we look forward to bringing them to your home soon. The Caesar Crystal Studio has a range of wonderful pieces of cut glass art which really do them proud. Their stock is very wide, and there are some gorgeous glass decanters that we would like to bring you in the not too distant future.