Glass art has been used to beautify homes and other buildings for centuries from stained glass windows to sculptures as well as functional bowls and vases. However, for a long time, glass art was viewed as the 'poor cousin' to paint sculpture and pottery. That is no longer the case, and the glass art business is thriving. The UK boasts many incredibly talented glass artists and we are delighted to be able to showcase the work of some of the finest art glass studios at Boha.
Art Glass Studio Movement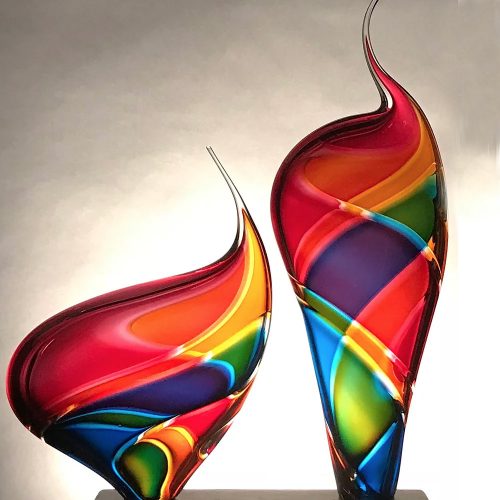 The art glass studio movement started in the USA and rapidly spread across the world, including the UK. The key part of this movement lay with the artists designing and hand-making unique glass art in a small studio setting. The artists would design and innovate their studio glass pieces, sharing ideas and techniques. This led to the term studio glass, which refers to artistic glass.
The popularity of studio art glass has grown considerably in recent years. Many glass artists across the world are famous for their work, and many UK artists sit proudly within that community.
Glass art is bought by classy collectors, businesses for their high-net-worth clientèle and as finishing touches by interior designers.
UK Glass Art Studios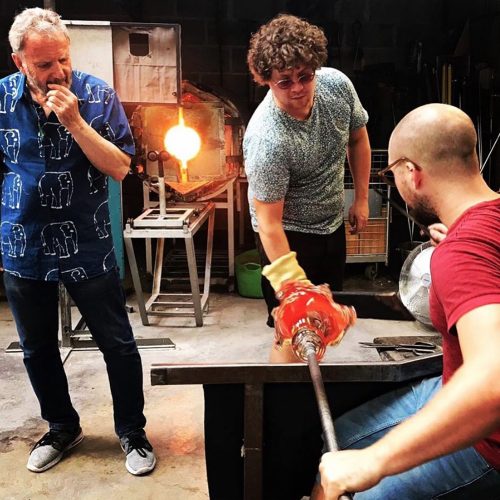 There are a large number of UK glass artists who have achieved critical and commercial success. These artists produce work that combines great looks, wonderful reflective qualities, and unparalleled artistry. It is far too difficult to say who is doing it best so, instead, here is a small selection of UK art glass studios we greatly admire. These artists primarily focus on producing highly colourful contemporary glass art. A style that is "the beating heart" of Boha.
Peter Layton & London Glassblowing
Peter Layton heads up one of the most well-known glass art studios in the UK and is considered to be the 'Godfather' of British studio glass. Certainly, Peter was instrumental in elevating glass to the 'lusted after' and collectable art form it is today.
Peter set up London Glassblowing as a collaborative workshop and gallery in 1979 which incubates new talent and develops new techniques. Peter continues to play a hugely active role in the studio. Not only does he create his captivating collections, but also advises, collaborates and teaches his "family" of resident artists. There are currently 12 artists in residence, as well as guests artists, who are producing some of the most innovative exciting glass art today.
Shakspeare Glass
Will Shakspeare, of Shakspeare Glass, is also one of the UK's best-known glass blowers. He set up Shakspeare Glass over 25 years ago and has achieved great success with his uniquely creative glass art.
Based at his studio in Langport, Somerset, Will works with a small and talented team of glass assistants. Shakspeare Glass has featured regularly in the press and on TV. These appearances include: Inside The Factory, Kirstie Allsop's Homemade Home and Homemade Christmas.
"I make a wide range of different designs which are constantly evolving. I deliberately design glass with a random factor, something that is out of my control. I also try and use colour so that it affects the final shape of the piece in a natural, fluid way. It means that I work with the glass rather than completely imposing my own 'will' on it as it were!" says Will.
Aline Johnson Glass
Aline Johnson creates vibrant kiln formed glass art. Her work includes chandeliers, wall and table lights and vessels. She is fascinated by the potential and diversity of glass and uses a mixture of colours to create extraordinarily beautiful patterns.
Her signature style was developed and inspired by her rural retreats to Dorset. The vibrant palette of beach stripes, seaside rock and windbreak patterns translate easily into fused glass. In addition, the ever-changing colour palette, sparkling translucency and the fluidity of the sea provide an infinite source of inspiration.
Aline's sublime glass art is exhibited and sold across the UK and Europe and is highly sought after.
Devereux & Huskie Glassworks
Devereux & Huskie Glassworks was set up by James Devereux and Katherine Huskie in 2013. The studio is based in on the Marsh farm estate in the village of Hilperton, Wiltshire. Since its opening the studio has gone from strength to strength, attracting many of the UK's finest glass artists.
The glassworks has a fully equipped Hotshop designed to produce both large and small works. It is a space where artists and designers can flourish and realise their glass ideas.
James Deveraux began his glass journey at the tender age of 15. Working primarily with hot glass he is adept at glass blowing and working with solid forms to produce beautiful, powerful and majestic pieces. James is a hugely talented artist who works on his collections as well as collaboratively with other artists and designers.
Katherine Huskie has been working with glass for over 10 years and her sculptures have proved very popular. She takes her inspiration for her glass artwork from geometric patterns and textile designs. Katherine, like James, creates her pieces as well as working with others.
The Future of Studio Glass
The appetite for luxury goods can wax and wane over the years, however, the future for art glass is looking robust. The above glassworks, as well as many other UK glass art studios, are continually evolving and developing new styles and methods to produce spectacular glass art. The majority of artists create their works to enhance interiors, but more recently there has been a growing appreciation for outdoor glass sculptures. The success of the Chilihuly exhibition at Kew Gardens this summer (2019) being a prime example.
Glass is a fascinating medium, with its amazing transparency and reflective qualities. Here at Boha, we are in no doubt that the beauty, value and collectability of the UK's contemporary and colourful glass art will continue to soar.