If you ask people what is Bristol is famous for, you will get a myriad of answers as this west country city is famous for many things. Most likely answers would include Isambard Brunel's, Shipbuilding and the term 'Shipshape and Bristol Fashion' and the graffiti artist Bansky.

Something that may not immediately spring to most people's minds is blue glass. However, Bristol Blue Glass is, in fact, world famous.
What is Bristol Blue Glass and why is it famous?
Although no one is exactly sure when Bristol Blue Glass was first made the story is thought to begin in the 18th century. A Bristol merchant and potter, Richard Champion, began working with a chemist called William Cookworthy. Champion was working with porcelain and, with Cookworthy, searched for high quality cobalt oxide, which creates a deep yet bright blue. Champion wanted this blue glaze decoration on his white porcelain. Consequently, Cookworthy was able to gain exclusive import rights to all the cobalt oxide from the Royal Saxon Cobalt Works in Saxony.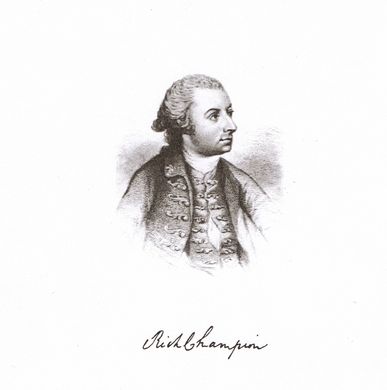 Richard Champion illustrated in Hugh Owen's 200 years of Ceramic Art in Bristol (1873)
The incredible beauty and quality of Bristol Blue Glass saw its popularity rise swiftly, so much so that seventeen glass houses were set up in the city. The most famous makers in the 1780s were father and son team Lazarus and Isaac Jacobs.
Lazarus was a Jewish immigrant from Germany who had a glass cutting firm at 108 Temple Street, Bristol. In 1774, Isaac joined his father's company at the tender age of seventeen. He was instrumental in turning Bristol Blue Glass into a national brand using the cobalt oxide Cookworthy imported. Isaac oversaw the growth of the company and the expansion of their goods to achieve great success. Notably, their company held a royal warrant and were making glass for the aristocrats of Europe.
Bristol's glassmakers were invited to demonstrate their skills at the Great Exhibition of 1851, opened by Victoria and Albert. It was during this exhibition that Ruby Glass was made for the first time. They added 24-carat gold to lead crystal to give the glass its ruby red tones.
Despite its rapid rise and huge popularity production of Bristol Blue Glass ended in 1923 due to an economic recession.
The Revival of Bristol Blue Glass
Glassmaking declined for several decades after the 1920s. That is, until James Adlington and Peter Sinclair, held their Hot Glass exhibition in 1988, at Hand Made Glass, Bristol. This directly led to a revival of Bristol's hand-blown glass industry. The Original Bristol Blue Glass Company was created and it has spawned the careers of many other studio Glassmakers in the Southwest.
The Original Bristol Blue Glass Company
Today, Bristol Blue Glass is produced by The Original Bristol Blue Glass Company based in Brislington. The factory is open 7 days a week, where they offer Daytime tours, evening displays and offsite talks as well as special tours for groups and schools.
Demonstrations of glass blowing are held and the manufacturing process is explained in detail from start to finish. There are a glass museum, a public viewing gallery and hands-on activities.
There is, of course, a wide selection of glass is available for purchase. In addition, the highly skilled in-house engravers offer a wide range of engraving so customers can personalise their purchases.
Today the glassmakers still make glass the way it was made over 300 years ago. Bristol Blue Glass is entirely free-blown and handmade, without the use of moulds and machinery. Therefore, each piece is unique and highly collectable.