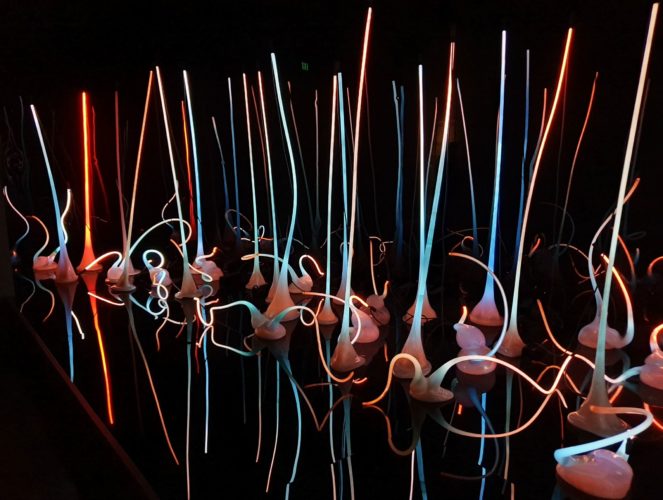 While on our travels to North America last year we were lucky enough to visit Chihuly Garden and Glass in Seattle, WA in the USA.
The Art Glass installations are a mesmerising cornucopia of colour and form; ranging from the psychedelic to the sublime.

It is hard to find the right words to draw comparisons, as Chihuly (pronounced 'ch-hoo-lee') and his team have created masterpieces that make you draw gasps of incredulity.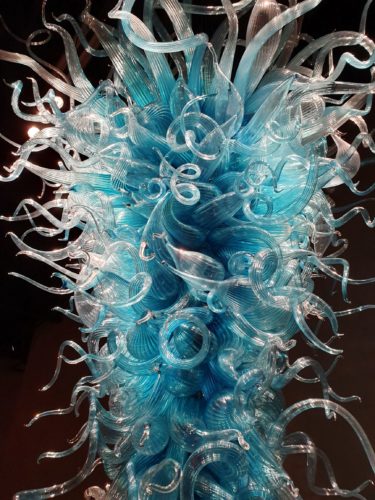 The photos I snapped on my phone do not do any justice to the art glass displays here. There were so many enticing rooms and the place was a hurley-burley of awe-struck visitors.

We had our young children with us, who were keen to get back outside to the playground and so we did not have the time to stop and immerse ourselves in the legion of visual delights we were presented with.
There was so much to see, both inside and out in the gardens and you could easily have spent half a day wandering around if your shirt-sleeves were not being constantly pulled by our little, short-attention spanned oompah-loompahs!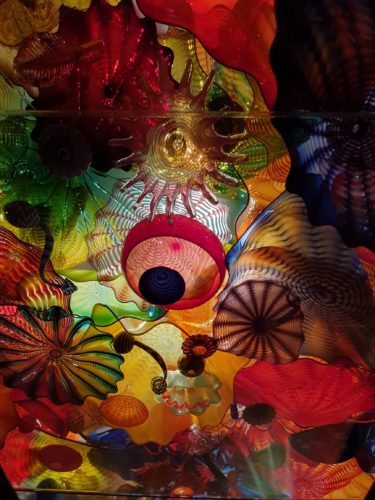 Talking of Oompah-Loompahs, some of the glass scenes were like something from Charlie and The Chocolate Factory, (perhaps the place should be re-named Chihuly and the Crystal Factory!) Bright, bold colours that epitomise North American glass artistry. And a heady mix of bold, pioneering styles that delight the visual senses.
Themes of tropical underwater gardens and seashells, rainforest fungi, and other botanical influences pervade the center. And what better place to show glass off to it's very best than in a glasshouse.

The center is in the shadow of the UFOesque Seattle Tower, which adds to the ambiance as you walk around the glass-infused gardens.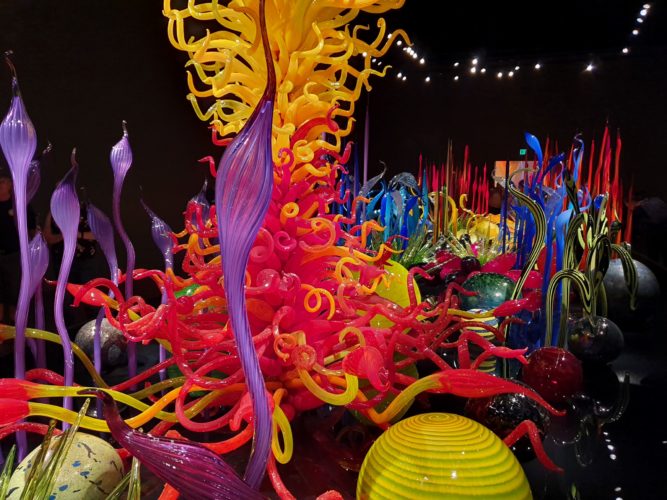 Chihuly is clearly influenced by nature and takes it a step further with his chromatic re-interpretation of Mother Nature's finery.
In the gardens, he blends vibrant planting schemes with a swirling kaleidoscope of large glass flowers. The visual effect is very pleasing, and nature and glass sit perfectly side by side in a mutual embrace.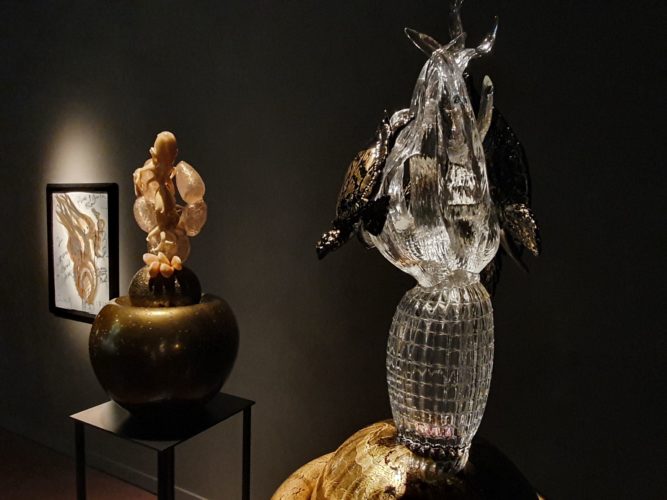 If you are thinking of heading to Seattle (in kinder climes) then make sure that a visit to Chihuly Gardens is at the top of your itinerary.

The photos we took here cover about 1% of what there is to see at the center and there is also a theater where you can learn more about the main man himself.