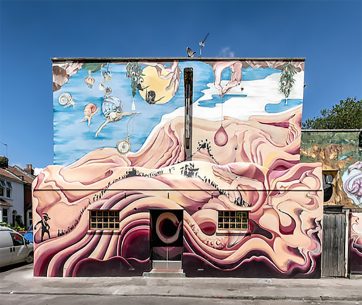 Street art, which encompasses graffiti art, is typically used to describe images or text drawn on walls and/or buildings. Most street artists tend to favour spray paint, although many are also using standard acrylic paint and brushes. Chalk is favoured by others, although you will notice that they tend to use the pavement as their canvas. Of course, chalk images are temporary, and a few rain clouds put an end to the artwork! Street style graffiti art, by comparison, can last for years as it is difficult to remove.
Graffiti Artists – Vandals or Visionaries?
Graffiti art of some form has been around for centuries, with examples dating back to the ancient Greeks and Egyptians. However, the style we recognise today really started to take off in 70's New York. Young people began to spray stylised monograms (tags) or bright graphic images (wildstyle) on buildings and subway trains. These young people would use graffiti for different means. For some, it was simply a way to mark their territory (tags).
This was particularly true for New York's gangland culture. Others were, most likely, simply bored and disenfranchised with society and wanted to deface a property just because they could. But for some, the medium was key for making a social or political point in a public place. Together with the rise of Hip-Hop culture, graffiti artists brought urban Black/African American culture into the mainstream.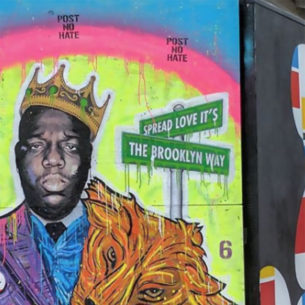 However, regardless of motivation, marking or painting property without the owner's permission is considered an act of vandalism. Indeed, it is a crime in many countries to this day. Therefore, most graffiti artists worked under cover of night and hid their identity to avoid arrest. Keeping one's identity secret can be helpful in other ways as seen for the Bristol-based artist Banksy.
Street Art in the Mainstream – Banksy & Beyond
Banksy, is a graffiti artist, political activist and film director.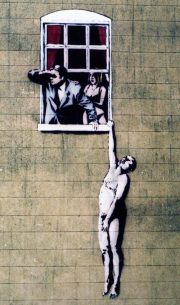 He became famous for his satirical and subversive street art . He combined dark humour with graffiti using the distinctive stencilling technique. You can see his work dotted across Bristol on various buildings, walls and boats to name a few. One of his images outside a sexual health clinic was famously destined for removal. After a public outcry, however, the city council backtracked. Banksy's popularity has grown ever upwards. His work has featured in many exhibitions across the world even though we still don't know for sure who he is.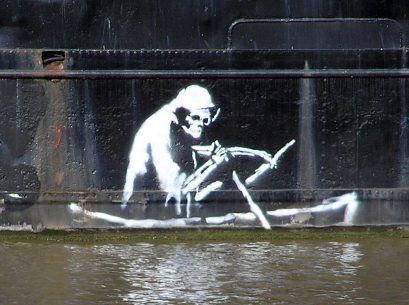 I would argue, as do others, that the fact that Banksy's identity remains unverified is a key factor. He has capitalized on his anonymity. The shroud of mystery only adds to the value of his art. Whatever you may think of his work, he has certainly changed the street art landscape for himself and others. Indeed the well known term "the Banksy effect", illustrates how interest in other street artists has grown due to Banksy's success.
Street Art and the City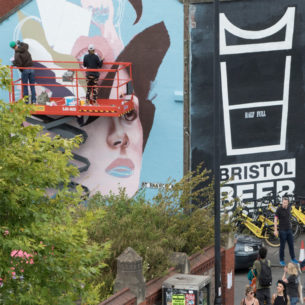 Street art features in many major cities and towns across the globe. In fact, a whole industry around street art walking tours have sprung up in recent times. Living in Bristol means that not only do we have the works of Banksy on our doorstep, but also many other street artists. They are both local and from further afield and have made their mark in Bristol. North Street in Bedminster, for example, is a hotbed of street art and the annual UpFest – a street art festival – has been a hit since it began.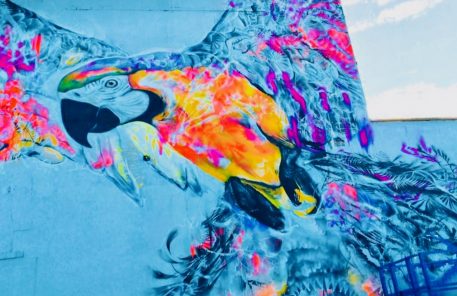 I have also had the pleasure and the privilege of doing street art tours in Buenos Aires, Argentina and Jaco, Costa Rica. Both places feature some amazing work from local and international artists. Street art is helping to not only create jobs but is also helping to brighten up and regenerate the look and feel of many unloved areas of towns and cities.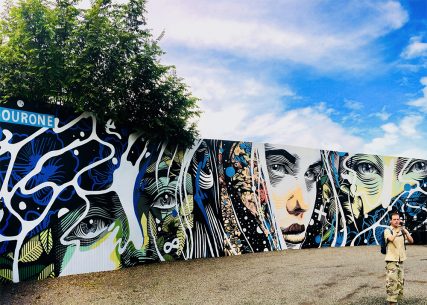 So, an art-form that was seen as vandalism, subversive and a general nuisance has become a global phenomenon. The works of street artists like Banksy have become so valued they are selling for millions in Sotheby's (and self-destructing – but that's another story!). Other artists have become so popular they have secured major retail collaborations, such as that between the Argentinian street artist Fio Silva and Nike.
Whether or not street art is your cup of tea (personally I love it), it seems urban styles are here to stay, at least for the foreseeable. Or, until it becomes so mainstream and another far cooler art movement emerges!