The original Nailsea Glass factory is only 3 miles from us – as the crow flies – and it has been a major influence in this country and abroad.
Sadly, the original Factory is now buried under the car park of a Tescos Store and now Nailsea glass can be found everywhere but in Nailsea!
Here are some original pictures of the old ruins of the Nailsea Glass Factory. You can click on them to see a larger image.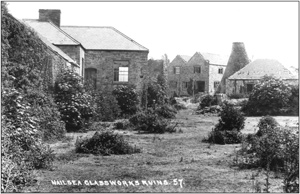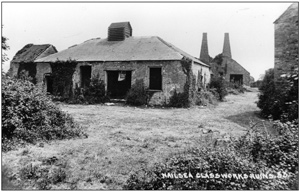 Pictures: Retired Professional Engineers Club Bristol
Lots more about Nailsea Glassworks by Andrew Smith here
Our new pieces of hand blown glass by Daniel Stepanek hark back to the early days of feathered – or combed – Nailsea Glass.
Much of Nailsea Glass was actually made from Crown window glass but the distinctive Nailsea Glass style we still know today was made with combed white lines.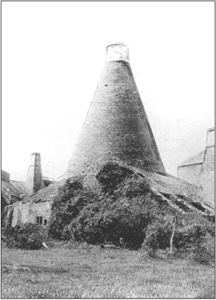 Nailsea Glass Heritage
Tescos have come in and built over the original factory site. Their argument is that a car park over the top will preserve the site for future excavation.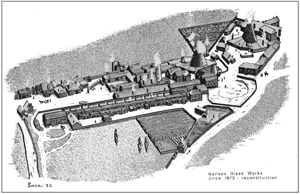 Considering how long it takes to get an archaeological dig arranged then this is probably the best of a series of bad options.
There is a statue at the beginning of the Tescos car park, but nothing else in the whole of Nailsea.
It is very sad that there are no other indicators to Nailsea's famous heritage and that the glass history of the town has faded into oblivion.
My family have a glass cane made right here in Nailsea – and guess where it is displayed? Yes, that's right, in a museum in Weston-Super-Mare!
All around us there are glass dumps that I used to dig as a child (managed to unearth a few Plague pits too!) but I never found any Nailsea pieces.
There are still many sites to explore with the right permissions, but i think that most of the glass headed West to America. There are some lovely pieces that come up now and again for sale and I am seriously thinking taking up collecting Nailsea Glass as well as Isle of Wight.
Sadly, it seems that the best place to buy Nailsea Glass is on the other side of the Atlantic!
+++Update+++
Thankfully, not all Nailsea Glass has disappeared across the Atlantic. Local Nailsea Glass collector Graham S. sent us this picture of his prized collection: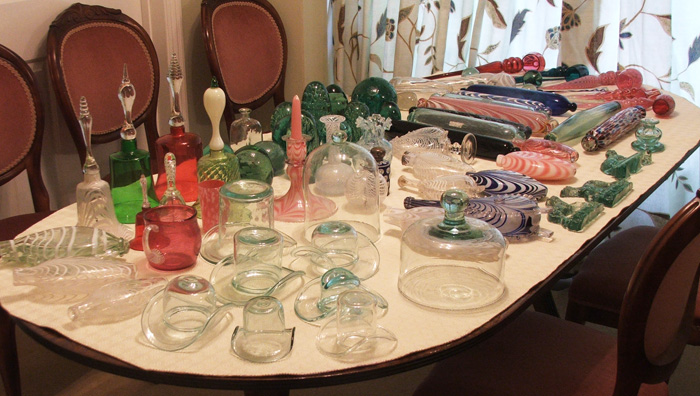 ++++Update+++++
Nailsea Glass works was built opposite the brewery owned by Charles Thatcher. The Thatcher family had brewed beer in Nailsea since 1721 and were probably related to the Thatchers who owned the breweries at Midsommer Norton.
Shortly after the glass works was constructed the Thatchers converted part of the brewery to a pub which they called the Glassworkers Arms. It's still there now called the Friendship Inn.
Nailsea Glass was made from the glass left over at the end of the day.
According to our reader Grahame Bell, whose wife is a direct descendant of Charles and Sarah Thatcher:
"Charles and Sarah Thatcher moved to Nailsea to start the brewery, which was then the Hunting lodge of the Earls of Berkeley. One Earl lost his inheritance – Berkeley Castle – which was given to the King by his elder brother because he married beneath him to a daughter of a Mayor of Bristol. However the father-in-Law (Mayor of Bristol) had given land in Nailsea to his daughter as dowry and that is how the hunting lodge came to be in The Earl's possession . The Berkeley's did not get the ancestral home and lands back until the death of Edward VI – Henry VIII's son."