For the last decade Art Glass has been waning and waxing with the tide.
Finally now, the tide is turning and art glass is making a comeback across the globe.
China has a lot to do with this, but their initial effect was negative – undercutting many independent makers and forcing them to evolve technically or fade away.
As makers dealt with the hammer blow of cheap inferior quality imports, they raised their game and learnt new techniques to try and compete with China on quality if not on price.
ART GLASS TECHNIQUES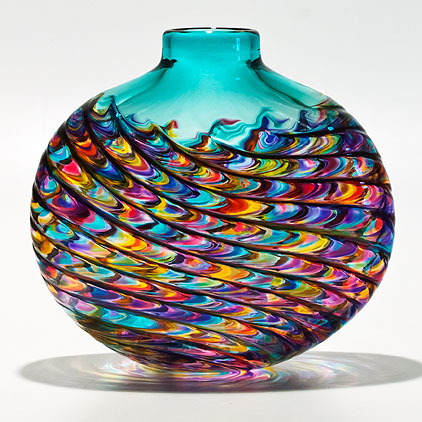 Glass making is continually evolving with techniques such as lampworking and fused glass and new techniques such as combining metal threads with molten glass. The glass/metal infusion technique created by famous Polish Glass artist Adam Jablonski continues to be developed since his retirement last year.
Here are some examples of Metal Infused glass vases that have been worked in a glass studio in Bohemia (modern day Czech Republic).
China in return, has focused on producing work of much higher quality and have created a lot of new collectors of art glass by providing affordable starter pieces that have whetted the appetite for more.
In the current harsh economic climate there is still lots of room for improvement and many art glass UK and worldwide artists have thrown themselves wholeheartedly into the online marketing world of Twitter, LinkedIn, Facebook, Etsy and a dizzying array of other social media sites.
Many glass artists had complained that they were not selling work at their local craft fairs and so they moved their wares online to an audience of a few billion rather than a few hundred.
This has created a real buzz online, and when the economics eventually turn the corner, the art glass community is in a great position to take the rising flood of interest by storm.