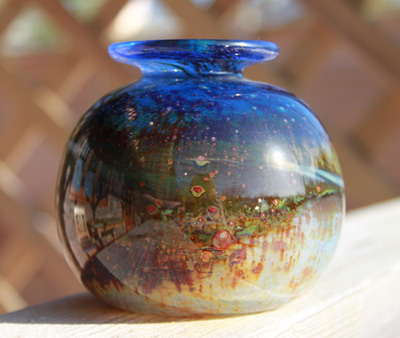 Isle of Wight Glass has a special place in my heart and I have been collecting pieces  for some years now.
I started collecting Mdina Glass and then discovered Michael Harris's Isle of Wight Glass and just adored its seventies space-like decor.
The majority of my Isle of Wight Glass pieces were bought in auctions on Ebay, and I set up an auction sniper account to get last minute bids in to win really nice pieces. Auction Sniper is a bit like not showing your hand in poker, so you put your maximum bid in there instead of in Ebay.
The best pieces for me are the Aurene period of  Isle of Wight Studio Glass which ran from 1974 – 1982 and I tend to like the earlier pieces. They have that real seventies feel and, as a child of the seventies, I loved the flared trousers and wide collared shirts.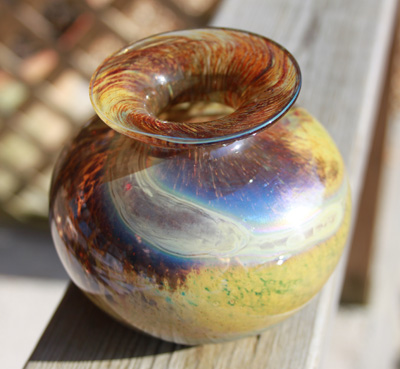 There are such an amazing array of colours embedded within the glass and they are set just below the surface, giving both a beautiful sheen to the pieces and also a contrasting top layer; often a white swirl that sits above the rest of the more deeply buried colours.
Isle of Wight Glass: The Ranges
Also, I collect the tortoiseshell pieces of Isle of Wight Glass. They are very beautiful, but nowhere near as lovely as the Aurene range.
There are a lot more ranges from the Isle of Wight Glass studio and I am glad to say they are still going strong today.
You can buy directly from them, or, if you are looking for an antique piece of glass, I can highly recommend Artius Glass whom I bought the stoppered Aurene vase from.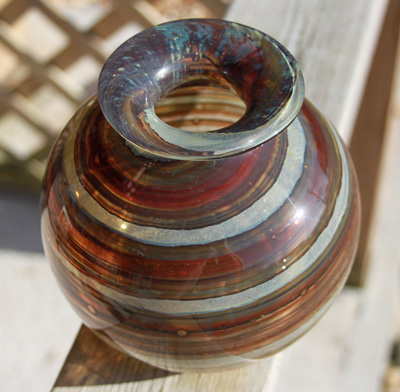 I went down to Ron's house to pick up my piece and could have talked to him all day. Unfortunately, my wife and children were outside in the car waiting for me so I had to cut and run.
My wife and I hope to bring Boha Glass on the road. We hope to start running a stall at the Shepton Mallet Antiques and Collectors Fair. This is held at the Bath and West Showground just south of Bristol, UK and it is a wonderful place to pick up Isle of Wight Glass.
Usually, I can be found drooling over the glass stools and, until the children are a little older, the last thing we would do is run a stall with them in tow.
There are always some fine pieces of Isle of Wight for sale, from brand new to seventies classics.
Unfortunately, I have run out of space and either have to sell a few pieces to make way for new ones or  have to stop buying altogether – both depressing choices, but essential for marital bliss!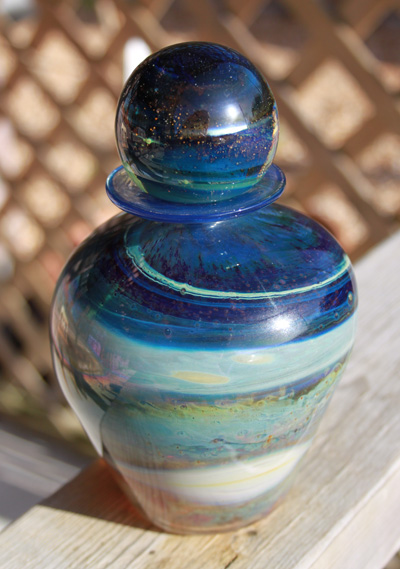 The photographs below are the extent of my collection. Sorry, but none of these are for sale, unless you are a oil magnate with millions burning a hole in your pockets. I am very attached to these pieces. I have a cunning plan to buy a big well-lit glass cabinet and fill it with my Isle of Wight and my best Adam Jablonski pieces.
Chances of sneaking a big lumbering glass cabinet into the living under the nose of my dearly beloved are slim to none and the whole Isle of Wight Glass collection currently sits precariously on a shelf above the TV, which my son keeps throwing balls at.
He can't work out why all his hard balls end up at the bottom of the garden and only the soft fluffy harmless ones remain in the house. By the time he catches on perhaps he will have stopped throwing things, and then again, perhaps not!
Sadly, children and Isle of Wight glass don't mix and space is at a premium in the majority of homes (most of us don't have rooms dedicated solely to gift wrapping).
Some people buy Isle of Wight glass items and leave them in their original wrapping up in the loft for ten years and then sell it. Now, although this is a great way to get a return on your money (three or four times better than what you would get with the local bank) it is also a bit sad.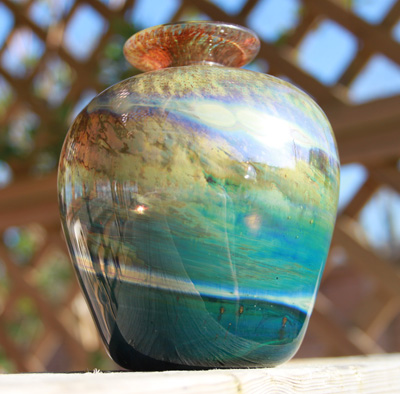 Fancy having things of such great beauty and then leaving them hidden away for a decade. You could keep the boxes in pristine condition and have the pieces on display and then put them back in the box when it is time to sell.
If you are careful and don't use any abrasives when cleaning your pieces then there should be no problem.
There are plenty of resources online if you want to explore Isle of Wight Glass in more detail.
The rest of the photos below are the other pieces from my IOW glass collection.
Hope you like them!
Kind regards,
Barnaby Kirsen
Partner Boha Glass