Paul Ysart's Paperweights
The mark of any great artist is the ability to create pieces which capture not only the eye, but also the imagination; whatever their medium, they are able to transport the viewer off into another world, a new realm of possibilities.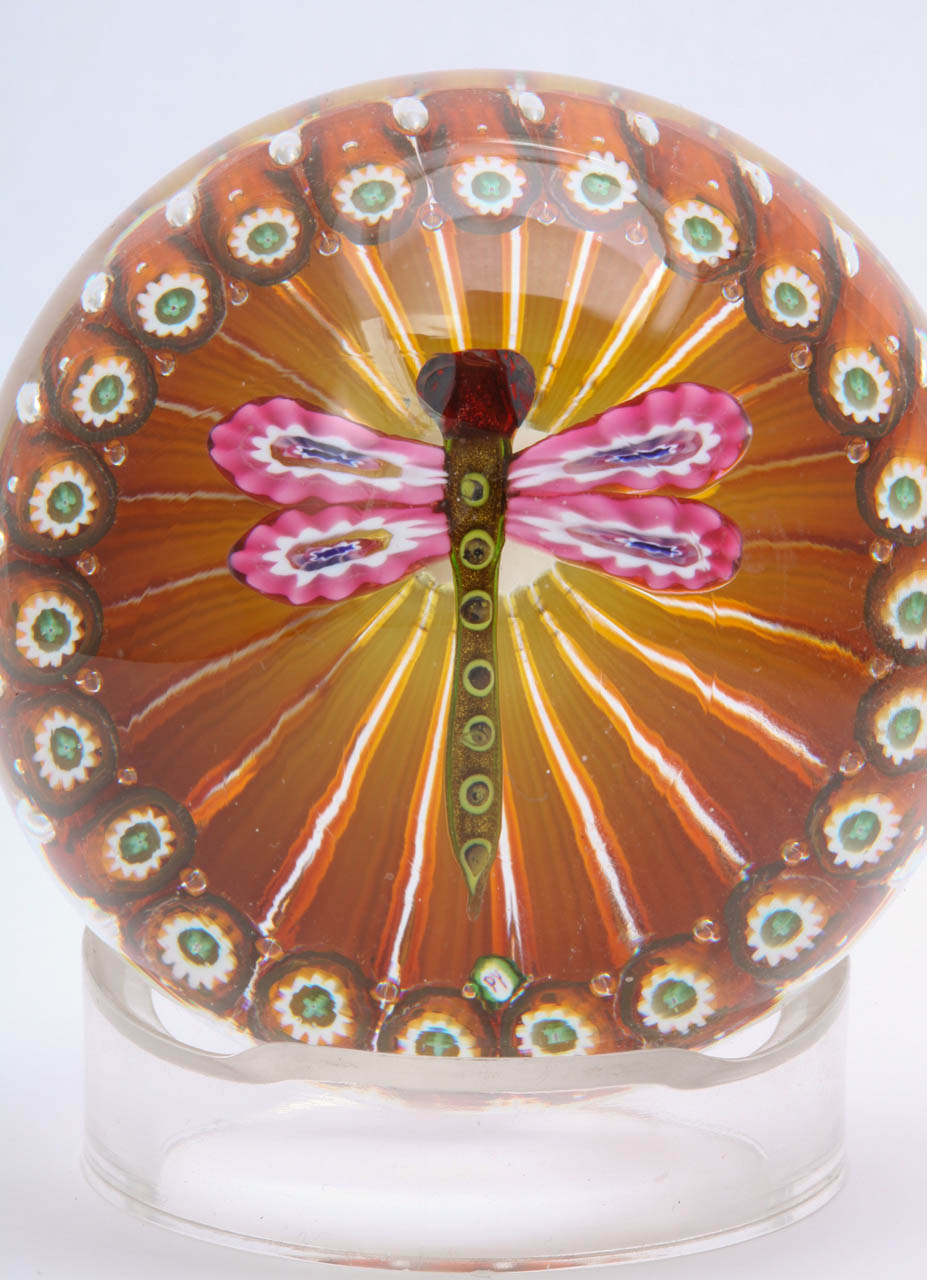 Out of all of the Ysart clan, Paul Ysart was likely the most deserving of the title of "artist"; his art glass creations are beloved of collectors today for their intricacy and whimsy, their supreme attention to quality and detail, and their magical conveyance of vision.
While Paul produced a great deal of fine glassware—including, most likely, a decent amount of Monart's now-prized prewar pieces—the fullest expression of his gifts was not found in vases, plates, or bowls; it was found in the rather unconventional form of art glass paperweights. At a time when paperweights were treated as a mere novelty item by many—including Paul's own kin, who had moved on to form Ysart Brother's Glass (Vasart) by the time Paul was heavily invested in paperweight production—Paul saw in them the perfect form for encasing scenes of stunning richness and complexity.
Exactly when and why this fascination with paperweights as art pieces occurred is uncertain; we know that Paul's father, Salvador, had experimented with using millefiori canes (a feature very commonly found in Paul's later art glass creations) in the 1920s, as part of a cup and bowl project, so we can safely assume this is when Paul learned to handle canes. It is clear, however, that Paul's passion for paperweights itself had nothing to do with his father, who has been recorded as scorning Paul's "foolish" preoccupation with the novelty items and refusing to help him procure materials for them or refine techniques. (Indeed, it has been posited that this schism over paperweights was a lynch pin in the "artistic differences" which eventually prompted Paul and Salvador to part ways.)
Instead, this passion resulted from Paul having a chance encounter, at some point during the 1920s, with the largely bygone art form of French cameos and ornate paperweights. Famous French paperweight manufacturers, notably Baccarat, had frequently used millefiori canes (creating cross-sections which revealed stars, spirals, shamrocks, and various silhouettes), so perhaps Paul's learning to use canes intersected with his discovery of antique paperweights at just the right time, sparking his youthful curiosity.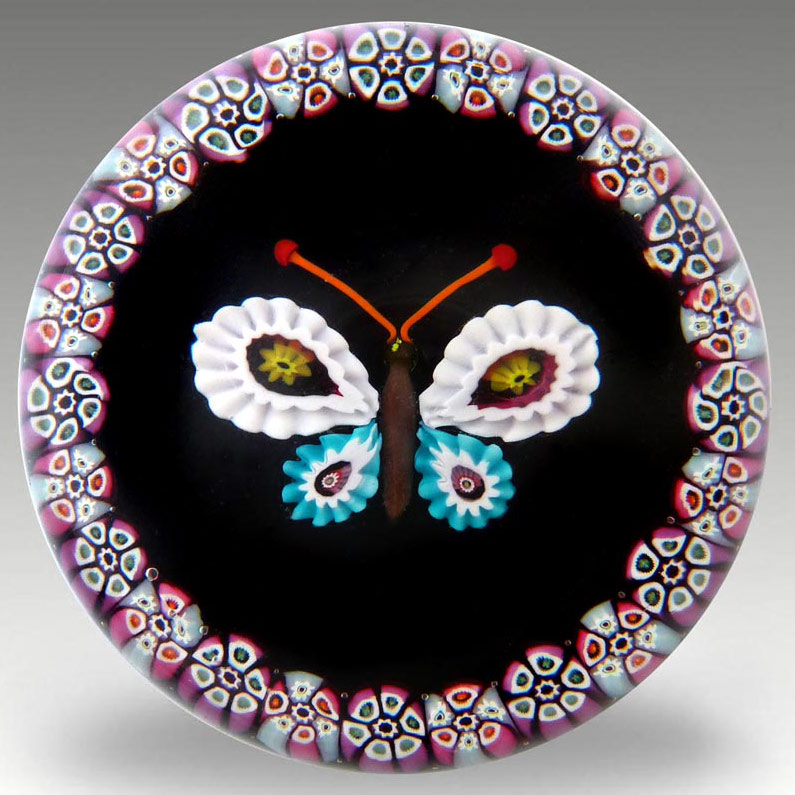 Paul soon set about reinventing 19th century methods; necessity drove him to make frequent innovations, such as using cameos from a local Woolworth's store to make his earliest cameo moulds. Despite such "cobbled together" techniques and a complete lack of aid from the more experienced Salvador, even Paul's early paperweights show an astonishing degree of artistry.
The oldest known Paul Ysart paperweight is an unusually large piece which dates back to 1932, but it is believed that this piece was preceded by at least a handful of earlier attempts which have since vanished (Paul most likely gave them away as gifts, at the time). Paul's paperweights were not a commercial venture for many years; instead, they were a personal creative endeavour which he indulged in after hours while working for Moncrieff glassworks. In making them, Paul found a freedom he could not find at Moncrieff's during the day, where Salvador acted as his overbearing boss and Isobel Moncrieff frequently decreed which designs were to be used.
This freedom proved to be intoxicating to young Paul, and he grew more and more persistent in his efforts. This anecdote, which first appeared in the March 1988 edition of Ysartnews, perfectly illustrates the stubborn nature of the young artist's growing obsession: "[Paul] remembers, with pride and fondness, one early experiment he made with materials. He found pipe-clay to be compatible when used in glass weights. Realising the potential of this idea he identified a company producing clay smoking pipes and leapt on his motor-bike to Glasgow to fetch a batch of materials to use in castings, from which he made a beautiful cast-swan paperweight. This spontaneous trip to Glasgow was the result, according to Salvador, of a 'silly kid' experimenting which he regarded as flippant and time wasting. However, his 'clay-pipe' venture did not finish there; he contacted a ceramics factory in Etruria to buy coloured glazes with which to decorate the castings."
Paul did not, however, make the mistake of neglecting to learn more standard skills; he simultaneously pressed on in developing a plethora of traditional glass-making techniques, such as lampwork, filigre, latticino, and of course, millefiori. He even began to develop a catalogue of samples, for his own future reference, of his cane designs.
Paul's paperweights began to show the fruits of this labour as the 1930s moved into the 1940s; his art glass creations from this era include detailed lampwork and millefiori flowers, lizards, and dragonflies, along with the kind of quirky elements that would become something of a hallmark of his (such as pink and white candy-stripe winged ducks and unusually expressive snakes). Once the rest of his family had moved on to form Ysart Brother's Glass, Paul's production of paperweights increased even further and experienced a subsequent enhancement in quality.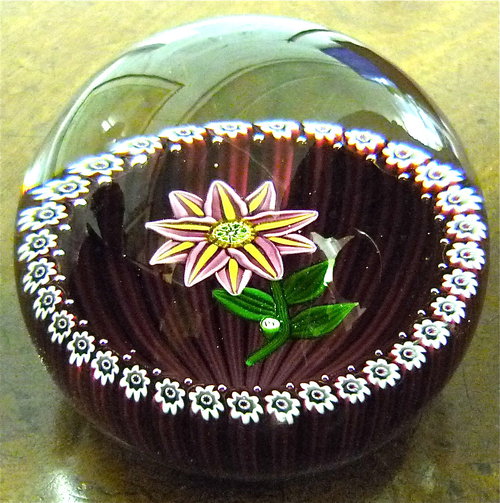 By 1938, Paul's paperweights were gaining significant recognition; they were being "included in important collections and were acknowledged as some of the finest examples of the craft since the mid-nineteenth century." (Ysartnews, 1988) Then, in 1955, Paul Jokelson, President of the American Paperweight Collectors Association, fell in love with Paul Ysart's unique art glass creations, and began to export them to the enthusiastic American market—a business relationship which would last throughout Paul's career, and prove instrumental in cementing his enduring legacy.
In 1963 Paul finally left Moncrieff's, moving over to Caithness Glass Ltd., where he had even more freedom to focus on paperweight creation; while there, he went on to produce a range of twenty different types of paperweights in his spare time (in addition to the more "modern" commercial range which was produced at Caithness).
Even as his age advanced, Paul never gave up his passion for art glass, unlike the other Ysart progeny (many of whom retired from the world of glassmaking after Salvador's passing). Upon leaving Caithness in 1970, Paul went on to form his own small company, called simply "Paul Ysart Glass". Here Paul continued to produce whimsical paperweights right up until his death in 1991.
Paul Ysart's legacy extends far beyond its surviving wealth of beautiful collector's items; Paul can be credited with reviving the concept of paperweights as creative and highly ornate objects, and with taking them from being a "side-line" (which, even during their Victorian heyday, they often been) to being an expressive art within their own right. Through Paul's tireless efforts, paperweights rose above their historic place as novelty items stashed away in emporiums and bazaars, and entered the realm of specialist shops and galleries, where they have been treasured ever since.