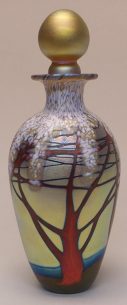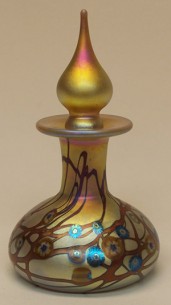 Our new range of Art Deco Perfume Bottles are lovingly handmade by Carl Radke. Carl was one of the Art Glass pioneers that reignited the Renaissance in Art Glass in 70s America.
Carl specialises in Lustre Art Glass, first introduced to the world by Tiffany & Co. in 1881. Its popularity reached its peak around the turn of the century and then waned as the Twentieth Century tastes shifted towards the sharp lines of modernity. By 1925 Lustre Art Glass was completely out of favour and was in danger of becoming a lost art.
In the Sixties, the Art Departments of several Californian Universities began to rekindle an interest in Silver Lustre Art Glass, the same specialised glass that the glass perfume bottles are made from. Several artists began working with the fascinating Lustre Glass again; re-exploring this highly complex and sophisticated art form.
Lustre glass is a highly specialised form of glassblowing due to the volatility of the glass itself. It is also a very costly art glass to make due to the expensive silver that is used to create it. The combination of these factors means that Lustre Glass can never be produced in a factory and will never become commercially viable. It has to be made very carefully and precisely with a lot of painstaking work.
The glass perfume bottles and other Lustre Art Glass pieces can only be kept in the furnace for a very short time before the texture, colour and quality begin to degenerate. With complex formulas, expensive raw materials and the glass volatility, it is only a handful of skilled glass artisans who are able to maintain the glass in a useable state. Each glass artist has to be a glass technician and chemist as well.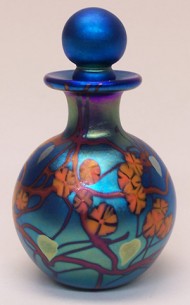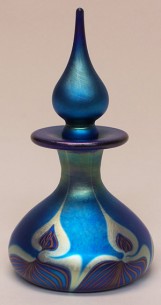 Carl Radke is one of those very few polymath artisans out of many thousands that has the skills to work with this uncompromising and fascinating glass. He has evolved this traditional glass and made it his own, with a versatile collection that combines Art Deco Glass styling with this wonderful iridescent glass.
Carl Radke glass perfume bottles have been exhibited in numerous galleries and exhibitions since he opened his studio in 1970 and are considered to be highly collectible. Boha Glass are delighted to be able to bring his work over from America to England. We hope to expand our perfume bottle range further, with more stunning art glass from Carl Radke and others from across the globe.
Whether you are looking for presents or a gift to treat yourself, these 10cm tall little marvels with win admiring looks from your visitors for many years to come. Whether you put them on your French Dresser or on the Mantel Shelf, the amazing iridescence of this lustre glass will deliver wonderful reflective qualities in all light levels.
Why not start your own perfume bottle collection today with an original Carl Radke glass perfume bottle? Items of this quality (not to mention the large amount of solid silver used to make them) will only continue to rise in value and could be a great way to start investing in Art to build a nest egg for the future. Plus, you get to enjoy looking at these fabulous pieces every day, while making money at the same time. For whatever reason you buy a Radke Art Deco Perfume Bottle, you can rest assured that you are buying the finest quality of these exceptionally rare and beautiful Lustre Art Glass pieces.