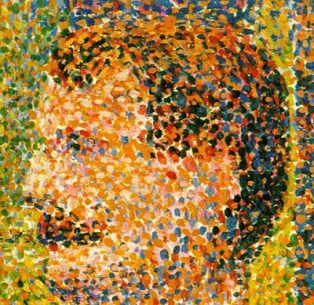 Georges Seurat Art is credited with introducing an innovative painting technique and inspiring an entire artistic movement. His most famous painting, A Sunday Afternoon on the Island of La Grande Jatte, was produced when he was 25 years old. He was the founder of Pointillism, a unique style featuring paintings produced from tiny dots of colour. Georges Seurat art was based on a fusion of art and science and was inspired by the work of scientists like Michel Eugéne Chevreul who found that overlapping primary colours could form new colours.
Reviving the Impressionist Movement
Seurat's career began at a key point in the Impressionist movement when its momentum was beginning to decline. The artist breathed new life into the movement when a new style of painting was required and big social changes were taking place. He was born in 1859, and spent much of his childhood with his mother away from his father, who spent much of his time at a remote cottage. His interest in drawing began in early childhood and he worked with influential figures including the sculptor Justin Lequien at a young age.
Formative Years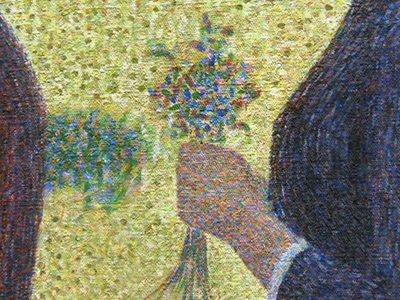 The Humbert de Superville book 'Essai sur les signes inconditionnels' was a huge influence on the young Seurat and helped him carve out his future direction. He started attending a local art school in 1875, where he obtained the tuition of Lequien. The artist was enrolled at Paris' École des Beaux-Arts and received training from Henri Lehmann. However, he left after experiencing frustration over the artistic methods employed at the institution and began to study alone. Works by Claude Monet and Camille Pissarro at the Fourth Impressionist Exhibition had a huge impact on Georges Seurat art, with the artist being highly impressed by the way they portrayed light and atmosphere.
The La Grande Jatte era
Seurat moved to the island of La Grande Jatte in 1881 with his friend, the artist Edmond-Francois Aman-Jean. He produced some of his most well-known and revered works on the island. After the Paris Salon rejected one of his works, Seurat decided against making repeat submissions and instead started working with the Groupe des Artistes Independants, who were focused on advancing theories around modern art. Paul Signac befriended Seurat whilst they were both part of the group and began creating works in a similar style. Seurat soon won national acclaim for his mural-sized Sunday Afternoon on the Island of La Grande Jatte, which took two years to complete.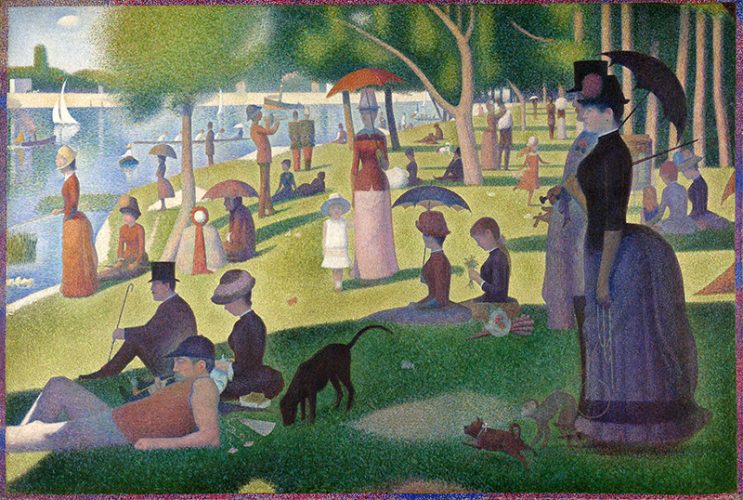 The Chromoluminarism Technique
Georges Seurat art is known for the use of the soft Conté crayon, which is capable of a diverse and powerful range of effects. Though Seurat spent much of his early years working in black and white, he became more and more interest in the science of colour in his later years. He started to use colour in incredibly experimental ways and developed a new language around colour which he branded 'chromoluminarism'. A Sunday Afternoon on the Island of La Grande Jatte Seurat features exceptionally warm and bright colours, with the only dark parts of the piece being the shades of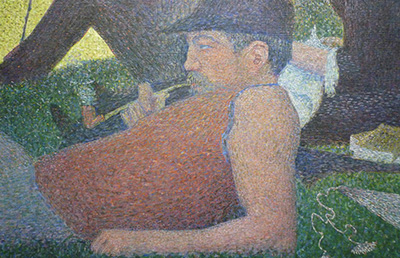 black which form shadows. The work features dots placed closely to one another, which enables views to blend them from a distance. The techniques used involved tiny strokes or points being dabbed onto the palette rather than blended and colours being placed side to side. This practice of optical mixing allowed the artist to deliver shimmering and vibrant colour effects.
Sources of Inspiration
Seurat took inspiration from many different sources, including the streets, nightclubs, parks and landscapes of Paris. One of his most notable works include 1884's Bathers at Asnières, which depicts labourers relaxing by a Paris river.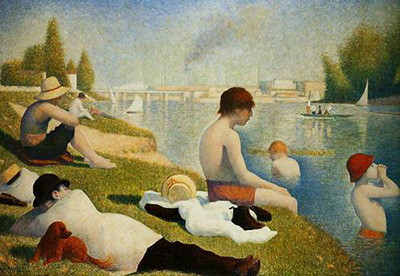 Like Sunday Afternoon, the work gave its subjects significance and permanence via simplified forms and details. Female subjects featured in works like The Models and Young Woman Powdering Herself, whilst circuses and nightlife were depicted in works including La Chahut and The Circus. His black-and-white drawings were usually produced via the Conté crayon.
Death
Seurat died in 1891 in Paris, aged 31. The official cause of his death is unknown but is thought to be pneumonia or meningitis. His son died just a month later, and the child his wife was pregnant with at the time died shortly after birth. A Sunday Afternoon on La Grande Jatte is now housed at the Art Institute of Chicago and is regarded as one of the most important works of the late 19th century as well as the finest example of George Seurat art by many. The musical Sunday in the Park was inspired by Georges Seurat Art work. His work The Circus was never finished.