A few decades before the world-renowned Steuben glassworks closed its doors forever in 2011, it was dominating the world of glass art sculpture thanks to its impossibly clear, intricately detailed pieces depicting life in the far northern reaches of Canada.
These glass art sculptures—which at their zenith commanded prices of nearly $20,000 U.S. dollars—were not works of mere fancy; instead, they were art pieces born of lived experience, the expressions of a man who had touched the soul of the wild north and found himself forever changed by it.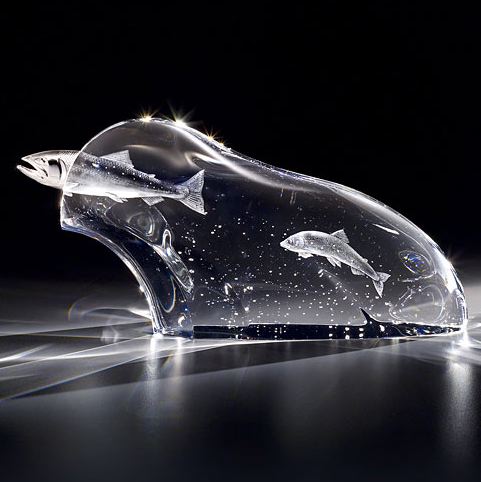 James Houston was born in Toronto, Canada, in 1921. Being the son of a clothing importer, he was exposed to the Canadian fur trade (and thus the Pacific Northwest) early on, through the stories of his father and the gifts, such as moose-hide moccasins, that he brought home from his various excursions. Likewise, the family summered on a lake which abutted an Ojibwa reservation, allowing James to foster a friendship with a Native elder, one which had a lasting impact on the young man.
James did not immediately pursue life in the north, however; he instead chose to perfect his creative talents, studying art in Toronto and Paris. It was not until he was called to serve in the Toronto Scottish Regiment of the Canadian Army in World War II that he once again grew enamoured of the wild lands. His interest in art and the north would ultimately come together when, on a northern shore patrol, he was exposed to the art of the local native peoples.
Even after the war ended, Houston found himself inexorably drawn back toward the Pole; while travelling around Canada searching for subjects to draw, Houston found himself in northern Ontario (in the tiny town of Moose Factory, to be precise), where he encountered a bush pilot about to venture into Inuit lands to administer medical care. Spontaneously, James asked to hitch a ride with him, winding up in a remote settlement on the eastern shore of Hudson Bay.
Many years later, Houston would describe the first time he saw the Arctic to a New London reporter: "I looked around at the barren rocks and tundra with the few tents graying with age and weighted down against the wind, and I took in the steel-blue sea and the biggest ice that I had ever seen and then the tanned, smiling people. I could scarcely breathe. I thought: This is the place that I've been looking for and now I've found it. I'm here!"
So profound was this feeling that despite being in possession of only a sleeping bag, a sketch pad, and a can of peaches (not to mention being completely oblivious regarding the local language, customs, and geography), James declined to fly back. The famously welcoming Inuit didn't seem to mind, quickly ushering James into one of their igloos.
A flurry of artistic activity ensued; to thank the Inuit, James drew their portraits, and in return the Inuit presented him with soapstone sculptures. Houston was not only grateful, he was astounded at the native people's skills: "I swear I could somehow see the whole future, not only to this day but far beyond my life, children coming to museums in the year 2000," Houston told the Montreal Gazette in 2002. "I never doubted it for an instant."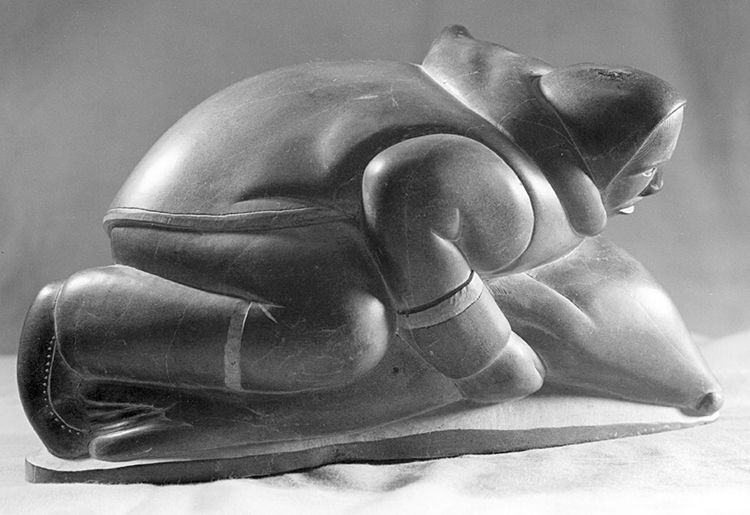 Houston took his precious discoveries back down to Toronto, where he was chartered as an agent for the Hudson Bay Company, flying back and forth while helping the Inuit to raise money through their artwork. Finally, James officially made the north his home, settling there permanently with his new wife, Alma, and deciding to raise his children among the Inuit.
As Inuit art gained international acclaim, Houston became a well known figure in Canada, leading to him being named the Canadian administrator of West Baffin Island in 1955. While he was in charge of this intensely remote 65,000-square-mile territory (then inhabited by just 343 people), he not only continued to market Inuit art to the outside world, he also brought printmaking to the local people. As legend has it, one day a sculptor named Osuitok pointed to Houston's pack of cigarettes and mentioned how monotonous it must be for the men who made the packs to create the same image repeatedly. James's mind lit up with an idea and soon, he was on a plane to Japan, where he briefly studied printmaking so as to bring the knowledge back home to the Inuit. This in turn allowed the Inuit to apply their visual art to paper in large quantities, bringing it to an even wider audience.
By middle age, fourteen years of life spent in the Arctic was taking its toll on James (he had nearly fallen through the ice on several occasions and nearly starved to death, among other misadventures) so when Houston received a job offer from Steuben glass in 1962, he decided to accept and leave Canada altogether, relocating to Steuben's Manhattan studio.
With so much of his time freed up (no longer having to work hours a day simply to survive in the harsh Arctic climate), Houston became incredibly prolific as an artist. In addition to his work with glass art sculpture, he began producing children's books based on Inuit folk tales, as well as several award-winning documentaries and a novel titled "The White Dawn".
But it was glass which truly allowed Houston to channel the impressions of the Arctic that lived on in his memory; he immediately grasped—and mastered—the evident aesthetic connection between glass and ice, so perfectly rendering his sculptures in Steuben's clear crystal (said by some to be the clearest in the world) that his work became wildly popular with collectors. (In his preface to to "The Arctic Fisherman," a limited-edition book from Steuben, Houston wrote that "Realising a connection between glass and ice was of huge importance to me and set me on Nature's trail.")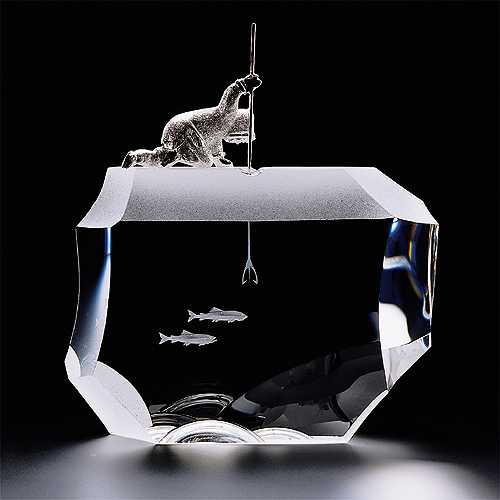 In addition to crafting many smaller consumer-oriented sculptures intended for the gift trade, Houston created pieces of staggering scope and vision, such as "Aurora Borealis," a 70-foot work of polished prismatic spheres, the "Arctic Fisherman," a sculpture depicting an Inuit fisherman about to spear a fish in the water, and the "Trout & Fly," in which a fish jumps from the water to catch a gold fly.
Houston would go on to receive many honours and accolades prior to his passing in 2005, including being appointed Officer of the Order of Canada in 1974 and being chosen as one of the 125 most influential Canadians in history in 1992 (that same year, Steuben would honour him with a retrospective exhibit).
Steuben glass did not long outlast Houston (failing to fill his shoes with artists of similar genius and originality), but there is no doubt in anyone's mind that the artist's legacy will endure with an endless brilliance matching that of the Arctic's midnight sun. Houston's ability to wield fire into ice has left us with stunning mementos of a wilderness that is all too quickly vanishing, preserving through the universal language of art the creatures, cultures, and inimitable soul of an untamed land.