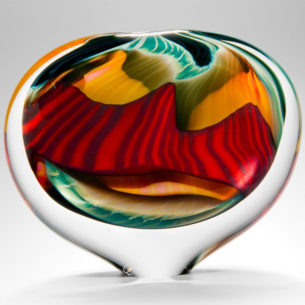 The work of modern glass artists can change hands for astonishing amounts of money, and it's often amazing to see just how innovative and beautiful the glass-based works being produced by today's leading pioneers are. Art Glass can also be a great art investment for the future.
Fewer and fewer creative restrictions
The ability to colour glass has led to some of the most stunning creations that the art world has ever seen. Some of the most renowned modern glass art studios in the world can be found in Italy, France, Malta and Poland as well as the US and the UK. Various new technologies have been developed over the years, which means artists have become less and less limited with regards to what they can achieve.
The Glasstress Exhibition which takes place during the Venice Biennale of Arts is one of the biggest events in the modern glass art calendar every other year and showcases some of the most exciting and innovative examples of modern art glass around. The event is a chance for some of the scene's leading lights to talk about the direction of the movement and even arrange collaborations. Though the world of art glass has largely been dominated by men over the years, a growing number of women are gaining prominence and worldwide acclaim for their pieces.
The role of stained glass
It's widely agreed that the first stained glass pieces paved the way for a host of techniques, styles and ideas to be developed. The Irish stained glass designer Harry Clarke was a one of the leading figures of the 20th century in terms of stained glass, and many of his pieces have found their way into museums across the globe. Stained glass is still revered as an incredibly important movement, though new techniques and styles appear to have eclipsed it in popularity over recent years.
Chihuly and Tagliapietra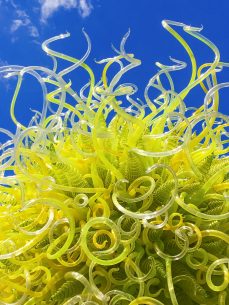 Glassblowing has remained hugely popular and dates back over two millennia. The US glass sculptor Dale Chihuly is regarded as one of the most pioneering names in modern glass art and uses special techniques to produce hugely innovative and distinctive installations and sculptures. His works can also be found in museums across the world and he is regularly cited as the finest glass artist still living today. Although an injury led to Chihuly being forced to step back and work as "more choreographer than dancer", he has sold more than $29 million of artwork with his team.
Lino Tagliapietra is another vastly influential glass artist who grew up in Murano, Italy, a location synonymous with art glass. One of Tagliapietra's most well-known pieces is the 35-boat glass armada which can currently be found at the US' Columbus Art Museum. Tagliapietra was born in 1934 and started his first apprenticeship when he was just 12 yars old. He is known for creating colours that are only used in his work with a few exceptions and married Lina Ongaro, part of a leading Venetian glass production family, when he was 25.
Storms and LaMonte
Jack Storms is another highly-revered modern glass artist who uses lead crystal to make a reflective mirrors that display a glorious rainbow of colour. Some of Storm's projects take almost six months to produce. He is known for making use of the mathematical Fibonacci Thoery, which brings natural beauty and flow to his work. The US artist Karen LaMonte is perhaps best known for her Vestige, which is a glass sculpture of a dress which took a year to complete. Unsurprisingly, there is high demand for modern glass art pieces. More and more art collectors have been turning their attentions to modern art glass, and there's also a growing number of art galleries specialising in glass to visit across the world.