Pop Art movement – the beginning.
The Pop Art movement surfaced during the 1950's in both the United Kingdom and the United States. Dominating the art world it drew its inspiration from simple bold images of popular and mass culture. Imagery from sources of advertising , comic books, celebrities, animal and day to days objects are used.
Following from the more elitist works of Abstract expressionism, the Pop Art movement reverted back to more identifiable imagery. Appealing to a greater audience. Pop art artists celebrated everyday life, people and news stories. It sort to soften the division between high art and low culture by drawing sources from any cultural level.
Pop Art is a non paintery style and lends towards a commercial aspect. Artists tend to combine two or more materials that can have no relation and are visually removed from their known contexts. Most Pop Art although drawing upon popular themes and culture, it is thought to be emotionally removed and ambiguous.
Pop Art in the UK
In the early 1950's artist of all genres would meet regularly and discuss mass culture and its place in fine art. Following from these meetings in 1952, The Independent Group was formed was formed. These artists would use a sense of ironary and parody in their work. Mainly drawing on ideas derived from that of American popular culture, such as Western movies, Rock and Roll, Comic Books, Science fiction, Automobile Design.
Early British pop art movement was shaped by artists such as Eduardo Padozzi and Richard Hamilton. Both who are considered to be amongst the pioneers.
Eduardo Padozzi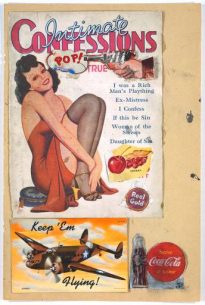 Eduardo was a Scottish artist and had a prominent influence on the Pop Art movement. Growing up in Scotland he read American magazines and kept a scrapbook of pictures he liked. A hobby which would later help shape his most iconic work. He produced large-scale figurative sculptures, prints, and collages made from magazines and other found objects. In 1947 he moved to Paris where he produced the collage, I Was A Rich Man's Plaything, deemed to be one of the first examples of Pop Art.
Richard Hamilton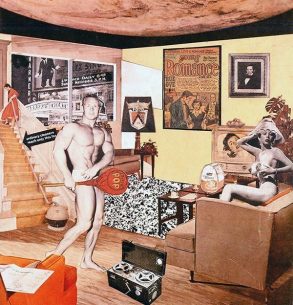 Hamilton looked to explore the relationship between fine art, product design and popular culture. Looking to break down hierarchies of artistic value. One of his most famous works is Just what is it that makes today's homes so different, so appealing? (1956).
Pop Art in the US
In the United states the pop art movement developed differently to that of the UK. American artists looked to work against the abstract expressionism that was prevalent.
Jasper Johns and Robert Rauschenberg's early works both anticipated the Pop Art movement. Johns' and Rauschenberg's work during the 1950s is classified as Neo-Dada. Reminiscent of the art of the early twentieth century dada movement. Dada was an art movement formed during the First World War in Zurich, a negative reaction to the horrific events of the war. The art, poetry and performance produced by Dada artists is often satirical and nonsensical in nature.
Robert Rauschenberg's
Rauschenberg's concern was for the social issues of the moment. His approach was to create art by using topical events in the life of everyday America. His approach was exploratory and expanded the traditional boundaries of art, opening up avenues of experimentation for future artists.
Jasper Johns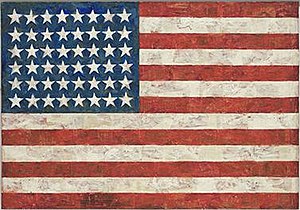 Jasper Johns is one of the most renowned living artists in the world. His work in painting, sculpture and printmaking has influenced nearly every artistic movement since the 1950s to the present day. Johns was among the first artists who underpinned the foundations of Pop Art movement's embrace of commodity culture. His Pop Art works main focus are signs, like flags, targets and maps. It is believed that after having a dream about the American flag. Johns created one of the most recognisable artworks of the Pop Art Movement, Flag.
Roy Lichtenstein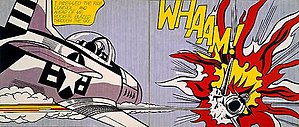 Roy Lichtenstein although initially criticised for his Pop Art work at the beginning, is now thought of as one of the leading artists of the Pop Art Movement. His best known works, inspired mainly by popular advertising and comic strips, have become iconic images of the movement. Selecting the old-fashioned comic strip as subject matter, while parodying in a muted manner, Lichtenstein produces a hard-edged, precise composition that documents. Whaam created in 1963 is one of Lichtenstein's most iconic pieces.
Andy Warhol
Andy Warhol explored the connection between celebrity culture and artistic expression. He introduced a fascinating new form of artistic expression. Using various material including painting, silkscreening, photography, film, and sculpture his work flourished in the 1960's. In 1962, he exhibited his now iconic paintings of Campbell's soup cans. Warhol then went on to set up his own studio called, The Factory. There he gathered writers, artists , musicians and society's elite.
Pop Art Today
A number of artists today who draw on the influences and works of the Pop artists of the 1950's and 1960's. They continue in the same vein of colorful and kitsch aesthetic of Pop Art. With in-your-face paintings, immersive installations, and larger-than-life sculptures.
Jeff Koons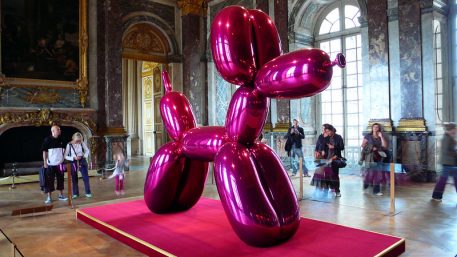 Jeff Koons emerged in the 1980's and is known for adding a playful spin to familiar subjects. Famous figures like Michael Jackson and Marilyn Monroe to ballerina figurines and balloon animals, all have come subject to the playful creativity of Koons. Steel is his medium of choice, he also works in porcelain, polyethylene, and even plants.
Yayoi Kusama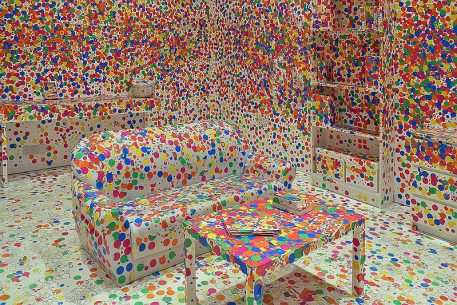 Celebrated for her avant-garde since the 1950s. Yayoi Kusama an abstract artist that moved towards Pop Art has captivated audiences with her immersive environments and interactive installations. Her multimedia, Mirror Room', is one of her best known works. Yayoi's bold style and original visuals attract attention from across the world. Click the link above and see more info HERE
Romero Britto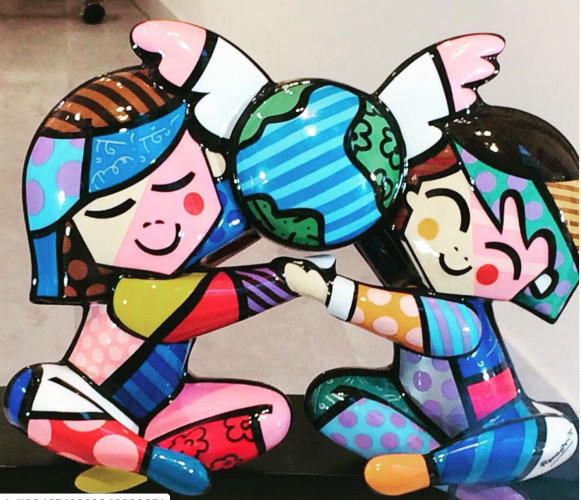 Romero Britto is a Brazilian artist with a distinct graphic style that combines Pop Art with Cubist-like abstraction. Britto uses vibrant colors and bold patterns as a visual expression of hope, dreams and happiness. Britto creates colourful illustrations with bold colors, playful themes, flat planes, and abstractions. His main influence stems from artists such as Pablo Picasso and Georges Braque. A commission for Absolut Vodka in 1989 help lunch his career. Britto has public installations throughout the United States, Switzerland, and Brazil. He owns the Britto Central Gallery. Which is situated in Miami, Florida, where he currently lives and works.
Pop Art is still very much presence in today's Art World. It has even filtrated into the Fashion scene. Donatella Versace has reprinted Warhol's works, while Vogue covers have adorned a pop art theme to present a Versace catwalk show. While there is Mass media there will be creativity, influenced by the musing values of the Paolozzis, Hamiltons, and Warhols.