Canadian glass artistry took off in the mid-seventies when glassmaking stepped away from the functional form and towards contemporary art. Today, Canadian glass artists' work includes blown glass, fine art glass and glass art sculptures.
Art Glass Pioneers
Elena Lee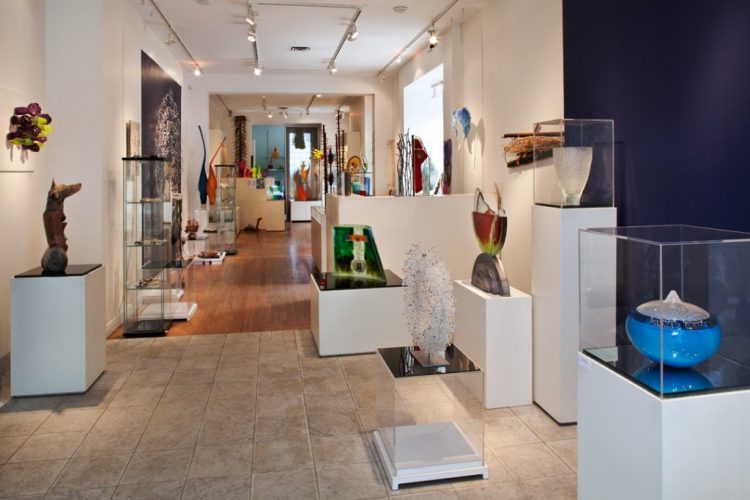 A key figure, for Canadian glass artists, was Elena Lee and her gallery, 'Galerie Elena Lee' was the first to represent the Studio Glass Movement in Canada. Elena was a strong and passionate woman. She devoted her life to the artists, encouraging future generations to go beyond the beaten path.
The gallery ran successfully for over 40 years but sadly closed its original space due to negative market forces. It then relocated to beautiful warehouse space for 3 years, however, it was forced once again to close its doors in December 2017. Galerie Elena Lee's present incarnation is a virtual space which continues Elena's legacy of promoting Canadian glass artists.
Daniel Crichton
Daniel Crichton, a master of classic glass art is one of the pioneers and founders of the Glass Art Association of Canada. He received his Diploma from the Sheridan College -Crafts and Design in 1978 and was head of the Glass programme there from 1979 until his death in 2002. His work features in numerous public and private collections, across Canada, the United States, as well as in Finland, France, Hong Kong, Japan and Taiwan.
Crichton directed a tremendous amount of energy towards the enrichment of the studio environment. As a result of his efforts, Sheridan now boasts a world-class facility where classes range from engraving to architectural casting.
François Houdé
François Houdé (1950-1993) was an innovative glass sculptor whose work garnered international recognition. He was ahead of his time in using new techniques for incorporating glass into art. Francois co-founded Espace VERRE (formerly Centre des métiers du Verre du Québec), which has trained many up-and-coming artisans. He also made a significant contribution to the development of arts and crafts in Quebec.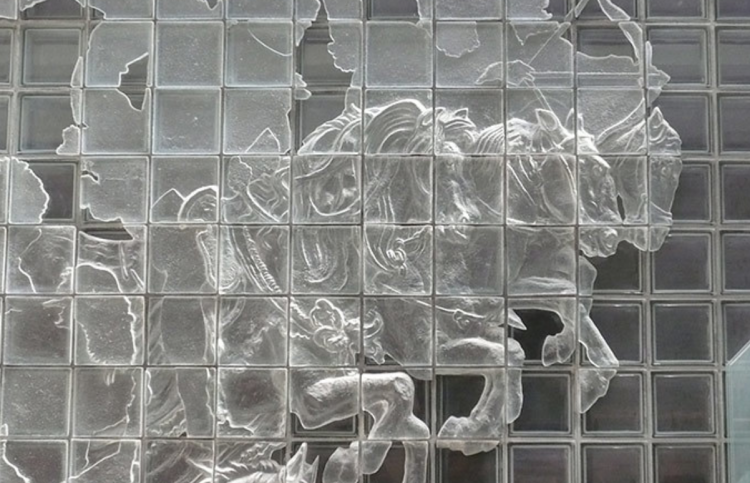 Modern Day Canadian Artists
Canadian glass art is thriving and rightly so. The skill and artistry of work coming from across the 'pond' is hugely exciting! Here at Boha, we are very proud to represent the following Canadian Glass Artists:
Paull Rodrigue
Paull Rodrigue glass is instantly recognizable and covetable! His signature style is to create glass art in bold, vibrant jewel-like tones with a sensual organic form. His glass art will enrich and adorn any space. Paull's work will fill viewers with awe and intrigue. His work makes the one feel uplifted and entices you to look deep into the piece.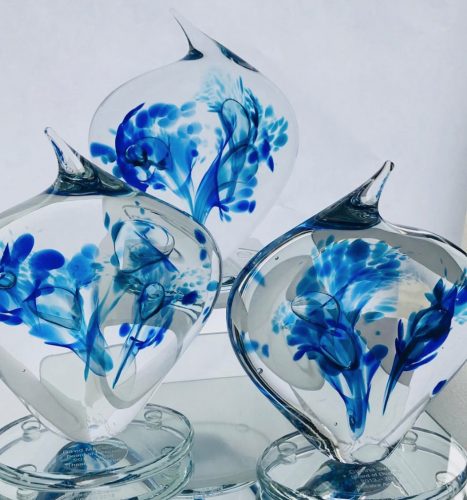 Paull began his art glass journey at art college in Canada in 1993 and set up his art glass studio in 2003 – Rodrigue Glass. He, cleverly, combines ancient processes and traditional techniques with modern technology and design. The creative process is the result of a mountain of preparation, design and the combined experience of Paull and his talented team of assistants.
Paull's Artistic Vision:
"I use multiple techniques and colour applications. The creative process of creating new art presents a challenge in which I respond to intuitively and spontaneously. The seductive qualities of molten glass entice me, resulting in works that are layered in colour and elegance. The interplay between light and colour informs my search for balance and luminescence. I continue to search for new and innovative ways to push the boundaries of glass".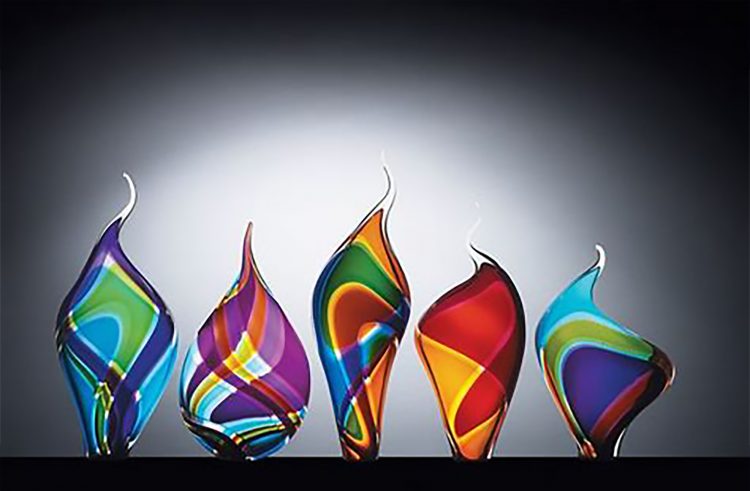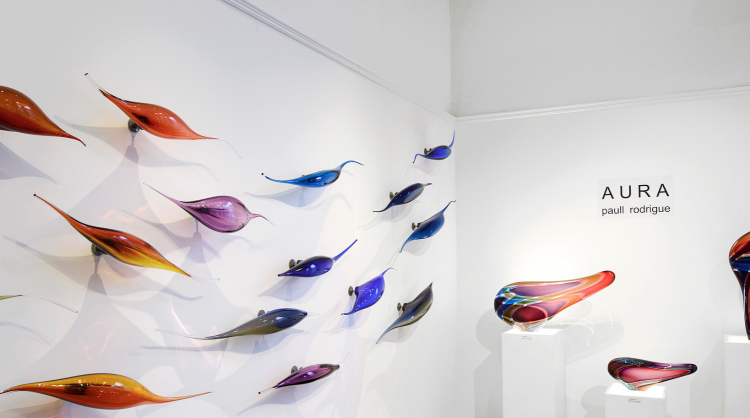 Curtis Dionne
Curtis Dionne glass art is beautifully handmade using the most Eco-friendly and sustainable methods possible.
Curtis's interest in glassblowing ignited at the age of 15 while looking over pictures and work of a famous glassblower. It was then his heart became fixed upon glassblowing as a career. Displaying a natural talent for glassblowing, Curtis accepted an apprenticeship at the Arte Vargas studio in Maple Ridge, British Colombia. Where he spent four years under the instruction of Maestro Daniel Vargas.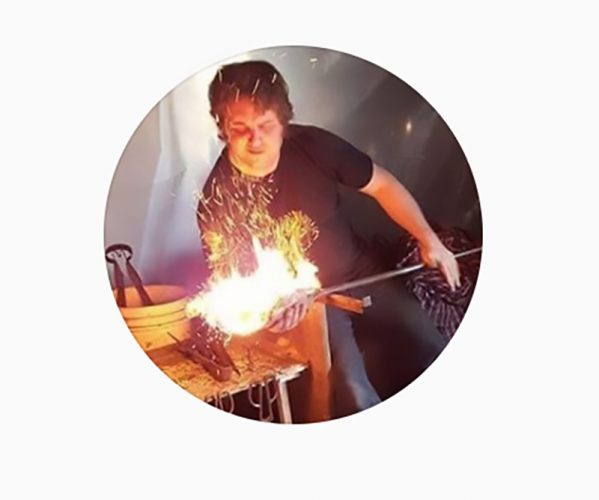 In 2008, Curtis moved to New Hortor, NB, where he set up his own studio, 'Glass Roots'. With his own concerns for the environment and having an engineering mind, Curtis designed a wood-fueled glassblowing furnace. It took five years of research and experimenting to develop the furnace he uses today.
Cutis, now settled in Atlantic Canada, makes traditional blown glass in his wood-fired furnace. This alone makes the blown glass unique to North America. Curtis Dionne Glass and the Glass Roots team are proud Candain glass artists who use locally sourced materials and alternative carbon-neutral fuel. This enables them to efficiently carry on the tradition of glass blowing for their families and their province in the most Eco-friendly, sustainable way