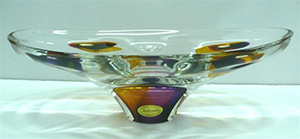 When you invest in a stunning piece of glass art, you will want to be sure that it is on display for all to see. The easiest way to do that is to make it the focal point in a room or the piece that pulls the rest of the space together. Creativity in how you display your decorative glass bowls will help draw attention to the piece and give it the sort of attention that it deserves. There are a number of ways to make that happen, but let's start off with three different types of display that will make your glass art shine like a brilliant diamond.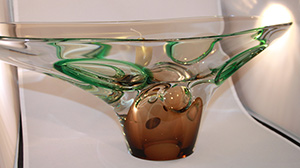 The entrance to your home is where first impressions are made, which is why it is the perfect place to display your decorative glass bowls. A set of accent tables that match the style of your space can serve as dramatic pedestals for your pieces, delivering the perfect combination of form and function. The bowls should be positioned and placed at a height that immediately draws the eye to them when people walk into the space. This is perhaps the easiest way to deliver a sense of style and elegance to your home, as well as being a great way to make a perfect first impression.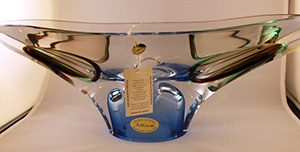 There are some that may not like the idea of placing their decorative glass bowls in an area where they cannot see them all the time. While it's nice to let visitors see your collection when they first arrive, what about those times when you want to savor the pieces for yourself? Instead of hanging wall art that only takes up a small part of the wall, you might consider adding shelving units that your glass art can be displayed on. You can change the position of the pieces to create new looks and play with the colors of the glass. Position the shelving in a space were the light will hit it, and you will essentially have a something new and beautiful to look at every day.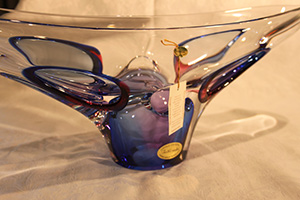 Hand crafted decorative glass bowls that are truly one a kind deserve a space that is suitable for such beauty. That may very well mean selecting a case that shows off your glass art in a way that befits its unique status. Cases can come in a variety of sizes and styles. Some are made to hold a single piece, while others are multi-tiered and capable of holding a number of different pieces. Choose a case that suits the interior style of your home and which is subdued enough to not steal the limelight form your glass collection.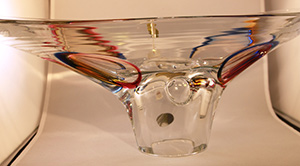 Decorative glass bowls come in a wide variety of styles and colours, and there are just as many ways to show them off. Try to be as creative as the artists who created them in the first place so that they will always have get the attention that they deserve.