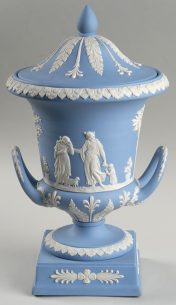 'Wedgwood' is a name that seldom needs further introduction; the word itself calls to mind elegance, the grace of scenes painted in delicate washes of cobalt blue, the translucence of fine china, white as bone, and the radiant prism of perfectly-cut crystal. Such is the legacy of Wedgwood's astounding 250 year reign over the world of fine British glass.
Like most great names, it owes its existence to a great man: Josiah Wedgwood, who founded the company in 1759. Now heralded as the "Father of English Potters", he was born in Burslem, Staffordshire, as the youngest of twelve children. The son of a poor potter, a childhood case of smallpox left Josiah with a bad leg (which had to be later amputated), making it impossible for him to turn a potter's wheel, but he did not let that hold him back; he went on to service an apprenticeship to a potter during his youth, prior to setting up his own business with his partner Thomas Bentley.
What he lacked in physical ability he soon made up for in keen business acumen, developing various new ways of selling which we today take for granted. Methods such as direct mail, money-back guarantees, the use of traveling salesmen, self-service, free delivery, buy one get one free, and illustrated catalogues all owe their existence to the enterprising Josiah Wedgwood.
The company's products truly began to draw attention when they stole the heart of Queen Charlotte, wife of George III, after Wedgwood manufactured a cream-coloured tea and coffee service for her. She was so fond of it that she allowed Josiah to refer to himself as "Potter to Her Majesty" and to name his new cream ware the "Queen's Ware".
Not one to rest on his laurels, Josiah was soon innovating further, engineering Black Basalt, a form of fine black porcelain, which granted him the ability to beautifully reproduce Etruscan pottery (which was then being excavated from Italy). Around the same time, he developed a stoneware called Jasper, which has since been hailed as the most vital development in the history of ceramics to come about after the Chinese discovery of porcelain (which had taken place about 1000 years before Josiah's discovery). Josiah was an avid fan of classical art and themes, employing many of the most famous artists of the time (including George Stubbs) to create bas-reliefs in the style of classical Greek motifs.
By 1766, Wedgwood glass was already so successful that a new factory was built in Staffordshire, dubbed Etruria, and Josiah took up residence in a Georgian mansion which he affectionately named Etruria Hall. Etruria officially opened on the 13th of June in 1769, and six "First Day's Vases" were released to celebrate the momentous occasion.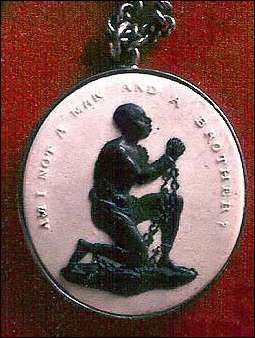 In 1774, Wedgwood rose to even greater heights, supplying a 944-piece dinner service (the "frog service", so named owing to its green frog emblem), to Empress Catherine II of Russia. Josiah then invented the pyrometer, a device which could effectively measure the higher degrees of heat in kilns, and was elected to the Royal Society in 1783. A passionate abolitionist, he also created a famous anti-slavery medallion which read: "Am I not a man and a brother?"
Wedgwood was now so esteemed that when the 3rd Duke of Portland desired someone replicate his priceless treasure—the Portland Vase, a stunning and intricate ancient cameo vase—he turned to Josiah. This was to become Wedgwood's Magnum Opus; he wound up devoting four whole years of painstaking trial and error to duplicating the vase in black and white jasperware.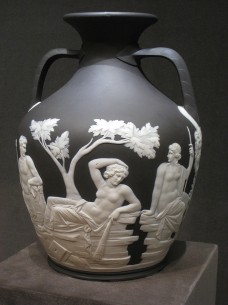 The Portland Vase project brought him no end of headaches, from the jasperware cracking and blistering to the sprigged reliefs "lifting" during the firing, and many other issues that had to be surmounted before he got his jasperware to finally emulate the delicate perfection of the original in 1790.
This was to be Josiah's last great personal achievement; thereafter he focused his attentions on passing the company down to his younger relatives.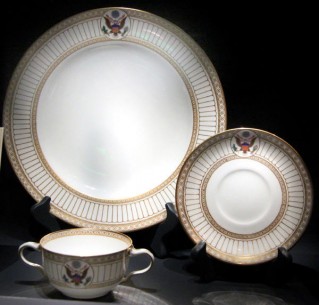 Wedgwood remained a prominent and highly respected name in the world of art glass and ceramics for centuries after Josiah's passing in 1795; the company went on to introduce coloured earthenware and manufacture bone china, culminating in the proud achievement of being selected to provide a bone china dinner service to US President Theodore Roosevelt, then residing in the White House.
A newer and more modern factory was created in the 1930s in Stoke-on-Trent to help the company meet the demand for its products, and in 1986 Wedgwood merged with the equally prestigious Waterford, an Irish company that excelled in the art of creating fine crystal (notably the Lismore pattern, the highest selling pattern of crystal in the world since its introduction in 1952). Waterford Wedgwood went on to be represented in more than 80 countries around the world, employing approximately 9,000 people.
Alas, the company began to get complacent at the worst possible time—prior to the economic recession of the early 2000s—and therefore floundered badly when it hit, having forgotten the lessons of its founder: constantly innovate, strive for perfection, and above all, sell through any creative means possible. Shockingly, the legendary Wedgwood went into administration in 2009, teetering on the verge of bankruptcy with a whopping $1 billion US dollars of debt attached to it.
Waterford Wedgwood was saved from a sad and final end by KPS Capital Partners, a "strip and rip" firm that specializes in buying troubled companies, shedding legacy costs, and streamlining production.
At long last, Waterford Wedgwood had to shed its by then "dinosaur" manufacturing plants in Ireland and the UK, moving production mostly (with some special collections excepted) abroad to save costs—a move that was, of course, highly controversial.
Today, the future of Wedgwood's legacy remains uncertain; while photographs taken in its main factory in Jakarta, Indonesia, give the impression of skilled workers carrying on the tradition of fine craftsmanship Wedgwood is known for, whether or not buyers will be willing to pay a premium for its products now they are no longer firmly attached to their British roots remains to be seen. Ergo, if you are a fan of Wedgwood, this is the perfect time to begin a collection and help to ensure the preservation of the firm's remarkable wares and history.