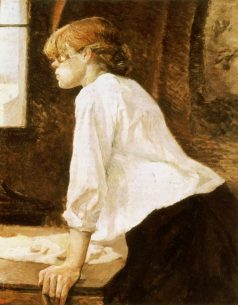 Henri de Toulouse-Lautrec was a painter, printmaker, illustrator and draughtsman whose fame peaked in the late 1800s. Toulouse-Lautrec was born on the 24th November 1864 and is associated with the post-impressionist period. Today, Toulouse-Lautrec art is seen as some of the most important art, not only of its era but of all time, with his painting La Blanchisseuse having sold for $22.4 million at auction in 2005.
Toulouse-Lautrec came from a wealthy family and descended from the counts of Toulouse. Although he had a brother, he died a year before Toulouse-Lautrec was born. His parents' subsequent divorce meant he was cared for by a nanny in his early childhood. There was speculation that some of the health problems he experienced were the result of inbreeding within his family.
At the age of eight, he moved to Paris with his mother and was soon producing sketches and caricatures. Henri's teacher Rene Princeteau helped him develop his craft, educating him about painting and art. His family soon realised he had the talent to potentially become a professional artist, though his father was never happy with his career choice. In 1878, a fall caused him to break a femur. He broke the other in another fall the following year. Whilst his legs never healed properly, his torso developed as normal. His short appearance was the result of these accidents.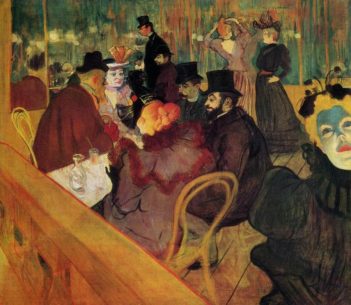 In 1882, he made the decision to pursue a career in painting, enrolling at the École des Beaux-Arts and working in Fernand Cormon's studio. After he moved to the Montmartre area of Paris in 1884, he remained there for the rest of his life, although he did pay visits to Spain and England. Much Toulouse-Lautrec art work documented the Montmartre at night, portraying its cafes, bars, circuses and its brothels. He lived close to Edgar Degas for some time. He was a huge fan of Degas' work and was heavily influenced by his output. Japanese prints were another key source of inspiration for the artist. Oscar Wilde was another close friend.
Toulouse-Lautrec spent a great deal of time indulging in the Montmartre nightlife, regularly visiting the Moulin Rouge cabaret. After developing a dependence on alcohol, he experienced a breakdown in 1899 and was committed to an asylum by his mother. Before his breakdown, he spent years socialising with Montmartre's fellow artists, dancers, intellectuals and prostitutes, accompanied by his cousin, Dr. Tapié de Celeyran, from 1890. The pair quickly became inseparable and formed something of a double act. They were even depicted together in the oil-on-canvas painting At the Moulin Rouge, which was produced between 1892 and 1895.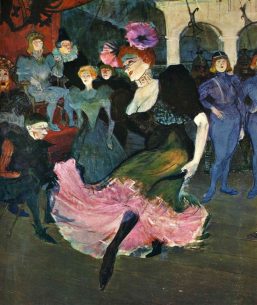 The artist had an electric social life and was greatly admired by the locals for his intellect, independence and skill. Subjects that appeared in his works included cabaret dancers like Jane Avril, Yvette Guilbert and La Goulie, as well as her partner, the dancer and contortionist Valentin le Désossé. Though his portrayals almost appeared to be caricatures, this was never quite the case, with his pieces being largely themed upon disguise, sensuality and mystery.
He even worked on the interiors of brothels in the early 1890s, winning the trust of the girls and forming close friendships with them. However, he never glamorised the worlds of cabaret or prostitution in his works. His 1894 painting the Salon in the Rue des Moulins depicted its prostitutes as bored, unattractive figures overlooked by their madame.
Lautrec is even cited as inventing the potent cocktail Earthquake, which consisted of three parts absinthe and three parts cognac over ice.
During his career, it's thought that Toulouse-Lautrec art work consisted of 737 canvasses, over 5,000 drawings, over 360 prints and posters, 272 watercolours and various examples of ceramic and stained-glass work.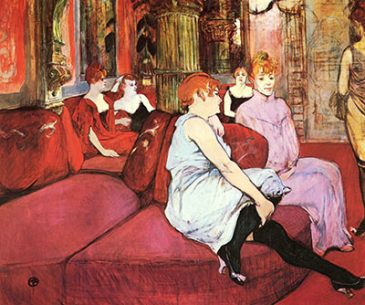 1891's Moulin Rouge: La Goulue four-colour lithograph is one of the artist's most well-known works. Approximately 3,000 copies were produced, and the work boosted his profile and that of the Moulin Rouge remarkably. His other most famous paintings include his print series Elles, Avril, Reine de Joie, his Portrait of Vincent van Gogh, The Laundress and The Streetwalker.
Though Toulouse-Lautrec appeared to be a fun-loving extrovert from the outside, his physical ailments and his struggles with his father contributed to his alcoholism. His 1899 nervous breakdown was linked to not only to his hedonistic lifestyle but his mother's decision to move from Paris. He passed away not long after his breakdown, on the 9th September 1901, aged 36. Toulouse-Lautrec art has been a substantial influence on various iconic artists, especially Andy Warhol.
You can read more about Toulouse-Lautrec on the Metropolitan Museum of Art Website.