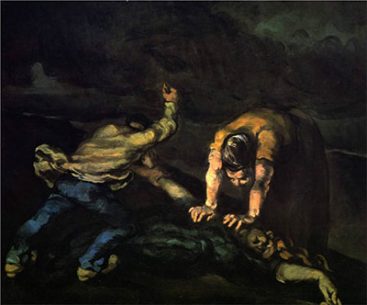 Paul Cézanne was born in 1839. The work of the French Post-Impressionist painter is widely seen as the vital link between the Impressionism of the late 19th century and Cubism. Whilst many of Cézanne's contemporaries came from impoverished backgrounds, the artist experienced financial stability during his youth, with his father being a co-founder of a banking company that passed him a large inheritance. Though the artist's father wanted him to be a lawyer, he undertook drawing lessons while attending law school, with his father eventually respecting his wishes and giving him 400,000 Francs when he decided to pursue his artistic ambitions in Paris in 1861.
Many art lovers see Cézanne as the leading pioneer of modern expressionism. 1861-1870 Paul Cézanne art works were dominated by heavy blacks and other dark colours. Many paintings produced during this period were created with a palette knife. A number of thematically bleak works were created around this point, which included The Murder and The Rape.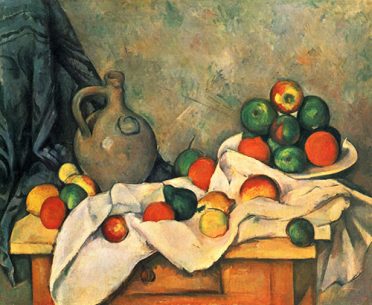 Between 1870 to 1878, Paul Cézanne art became much more optimistic and brighter. This era is known as his Impressionist Period. Though these works are now considered classics, they were derided by many critics at the time. The artist had a son out of wedlock during this period with his mistress. He did not tell his father about this, fearing he would lose financial support. When his father did find out after six years, he threatened to withdraw help before he relented and gave him 400 francs. He went on to marry his mistress, Marie-Hortense Fiquet.
The Mature Period of the artist's work lasted between 1878 and 1890 and featured a reduced emphasis on Impressionist styles. The Final Period of Cézanne's work lasted from 1890 to his death, with some of the works he produced influencing the Cubists. His work started to win praise from a new generation of artists and art lovers, but he spent lengthy periods of time as a recluse and experienced failing health, becoming diabetic and seeing relationships with those around him crumble.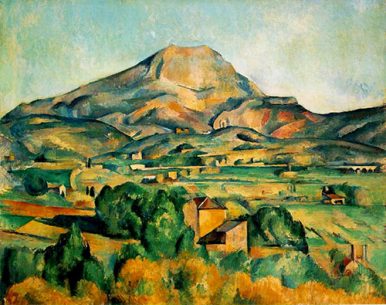 Between 1885 and 1906, the artist created the Mont Sainte-Victoire series of paintings. The Montagne Sainte-Victoire itself is a mountain in the South of France that overlooks Aix-en-Provence and was featured in many of Cézanne's paintings. The artist called the mountain a "beau motif".
Some say the artist's dedicated to his work ultimately killed him. Cézanne was working in a field when a storm broke out, but continued to work rather than going home. He collapsed when he finally made his journey home and was transported home by a driver. When he returned to the field the day after, he collapsed, dying from pneumonia a few days later and being buried in his hometown of Aix-en-Provence.
Cézanne was seen as a pioneer in terms of 'geometric simplification' that gave viewers an aethestic experience of depth. Many 20th century painters were inspired by the way the artist experimented with complex multiple views and simplifications, with Picasso branding the artist as "the father of us all". Cézanne's work The Card Players sold for over $250 million in 2011. This Paul Cézanne art work was created in the early 1890s and was based on local workers that worked for the artist's family estate playing cards and smoking pipes.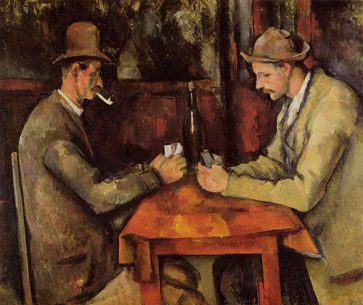 Paul Cézanne is regarded as a huge influence on a wealth of modern artists and lauded for the way he built form with colour and adopted an analytical approach to nature. The artist is sometimes known as the "Master of Aix" and said to have helped pave the way for 20th century modernism. Cézanne once had a close relationship with Baptistin Baille and Emile Zola, the latter of whom became an acclaimed writer. The strength of their friendship led to them becoming known as "les trois inséparables" or "the three inseparables". Cézanne's relationship with Zola came to an end in 1888 when Zola based a character on him. The fictitious character was an unsuccessful and tragic artist, with Cézanne unsurprisingly taking offence to this and the friendship becoming broken beyond repair. Some of the most renowned Paul Cézanne art works include The Card Players, Still Life With Apples, Boy in a Red Waistcoat, the Blue Vase, Pyramid of Skulls, Bathers and Curtain, Jug and Fruit.