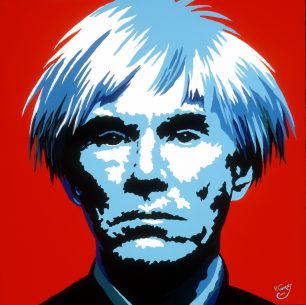 Andy Warhol Art is world famous and instantly recognisable, as is the man himself.
Andy Warhol (born Andrew Warhola, 6 August 1928 – 22 February 1987) was a key figure behind the Pop Art movement. He was the third child of Czechoslovakian immigrants, from a working-class neighbourhood of Pittsburgh, USA.
Andy Warhol is considered to be the most famous, influential and respected artist of the 20th century. The are many reasons for this, too many to be covered in any depth in this short blog.
So where to begin? Well, Andy Warhol was an artist, designer and producer and a key 'player' of the New York social scene of the 1960s and 70's. In 'old school' term's he was called a 'mover and a shaker', or in today's Social Media terms he would undoubtedly be known as 'An Influencer'.
Warhol was a notorious and controversial figure. His studio in New York, The Factory, was a hub for celebrities, intellectuals, drag queens, models, playwright and Bohemians. It was a melting pot of cultures, art, money and people from different levels of society and persuasions.
Andy Warhol art references popular culture – the images are iconic. A cynic might say that Andy Warhol simply created art about things he happened to like and it's just too 'obvious'. Others might say that man and his work is famous for 'being famous'. He was around at the right time and knew the right people.
However, there are far more depth and creativity to Andy Warhol Art than you might imagine at first glance. Even though he famously quipped "Art is anything you can get away with".
Andy Warhol Art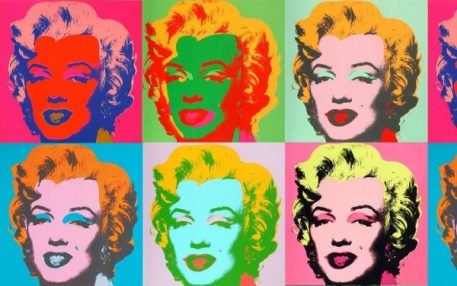 Andy Warhol Art covers a range of media. These include painting, illustration, cinematography, sculpture and silkscreen printing.
Andy's screen prints are arguably his most famous work. For example, most people will recognise the Marylin Monroe and Campbell's soup prints as widely celebrated pieces of art.
Andy Warhol used his art to explore the relationship between popular culture – celebrity, advertising and consumerism.
Popular culture is anything that appeals to the masses is found in our day to day lives. It reflects products that are mass produced for mass consumption by mass media. For instance, in the 60's Coca-Cola and Campbell's soup were all the rage.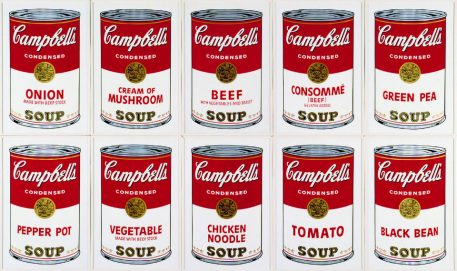 Andy Warhol Art reflects the turbulent 1960s. Consumer products, sexual liberation, rock music, drug use, tragic death and a heavy dose of shopping!
Warhol used the medium of silkscreen printing to create his hard edges and flat areas of colour. The process allowed him to create repetition in his work with little effort. The artistic embodiment of mass production – a recurrent theme in Warhol's work.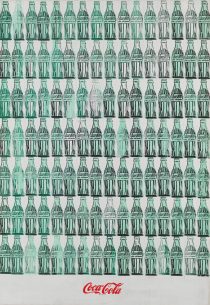 He wanted to reflect capitalist society, which was beginning to flourish, and consequently the need to consume more, quickly and with little or no effort.
Warhol's Green Coca-Cola Bottles print is an example of his insight and genius. The order and structure of the piece display balance. There is a visual contrast between the crisp white background and the traced green strokes. The green and white colours compliment and intensify the red company logo. Finally, one can link the dark green colour with money and the bright red Coca-Cola logo as a symbol of power.
So, what appears a simple image of stacked bottles, something you might see in a supermarket for instance, actually tells you a huge story in one fell swoop. And isn't that what all great art does?
Andy Warhol's Legacy
Andy Warhol died at the age of 58 in 1957. Since his untimely death, there have been many retrospective exhibitions, books, documentaries and feature films.
The Andy Warhol Museum in his native city of Pittsburgh holds a large and permanent collection of his work. It is also the largest museum in the USA dedicated to a single artist. Andy Warhol Art is very collectable and includes some of the most expensive paintings ever sold.