Born in 1912, Jackson Pollock was a world-famous American painter who is considered to be the 'main man' behind the abstract expressionist movement.
Abstract expressionist paintings, like Jackson Pollock art, share several broad characteristics. They show forms not drawn from the real world and can often look chaotic. In particular, abstract expressionism often features gestural brush-strokes and free, spontaneous, and personal emotional expression. To some, it might seem as if a child could have painted them. This is simply not true. Jackson Pollock art is feted around the globe and has had many imitators of the years, but nothing comes close to the works of the master himself.
Jackson Pollock Artistic Influences
Pollock was greatly influenced by the works of Thomas Hart Benton, Pablo Picasso and Joan Miro. In particular, the work of the Ukranian American artist Janet Sobel, is thought to have had a direct influence on Jackson Pollock's work. Indeed, she is thought to be the first artist to have used the drip painting technique.
'Drip' Painting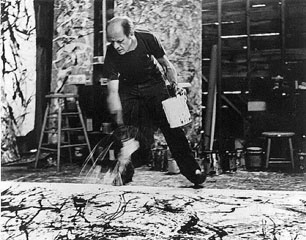 Jackson Pollock began to study painting at the Manual Arts High School, Los Angeles. He was introduced to the use of liquid paint in 1936 and a few years later he started working in a new way. His technique consisted of using sticks, trowels, or knives to fling and drip thinned enamel paint, as well as pouring paint directly from the can, onto an unstretched canvas laid out on the studio floor.
This direct, physical engagement with his materials brought gravity, velocity, and improvisation into the artistic process. These works, which he made between 1947 and 1950, came to be known as "drip paintings," and are his most famous paintings.
In this way, the paint literally flowed from his chosen tool onto the canvas. By defying the convention of painting on an upright surface, he added a new dimension by being able to view and apply paint to his canvases from all directions.
Pollock's drips, also called "action paintings," revolutionized the potential for contemporary art and the development of Abstract Expressionism.
Rise to Fame

In 1943, Pollock signed a contract with Peggy Guggenheim and a commission to create a large mural (2.4 x 6.1 m) for the entry to her new townhouse. Following advice from one of Peggy's friends, Pollock painted the work on canvas, rather than the wall, so that it would be portable. This mural was praised by the influential art critic Clement Greenberg. When he first looked at it, he said "I took one look at it and I thought, 'Now that's great art,' and I knew Jackson Pollock was the greatest painter this country had produced".
The first exhibition of Pollock's paintings described his work as "…volcanic. It has fire. It is unpredictable. It is undisciplined. It spills out of itself in a mineral prodigality, not yet crystallized". Jackson Pollock's fame and notoriety grew and in 1956, Time magazine named him "Jack the Dripper" – a somewhat cheeky reference to his painting style.
Pollock's career unfolded at a time when mass media took off. This meant that new ideas and images in art quickly entered the mainstream. The rise of mass media clearly aided Jackson Pollock's career. His work featured in a four-page spread, on August 8, 1949, in Life magazine. The article asked, "Is [Pollock] the greatest living painter in the United States?" The article changed Pollock's life overnight and his work became wildly popular. Suffice to say Jackson Pollock art had arrived on the world stage!
Change of Direction
At the peak of his fame, Jackson abruptly abandoned the drip style. His work after 1951 was darker in colour, including a collection painted in black on unprimed canvas. These paintings, also known as his 'Black Pourings' were unpopular and when he showed them at the Betty Parsons Gallery in New York, not one sold. His collectors were simply not interested in this new style.
Jackson later returned to using colour and continued with figurative elements in his paintings. During this period, Pollock moved to the Sidney Janis Gallery. This was a more commercial gallery and demand for his work from collectors increased dramatically.
During his lifetime, Pollock enjoyed considerable fame and notoriety. Yet, he was considered a reclusive character with a volatile personality. The pressure to meet the increased demand, along with personal frustration, meant that Pollock struggled with alcoholism for most of his life. He eventually died, while driving under the influence, at the age of 44.
Jackson Pollock Art Legacy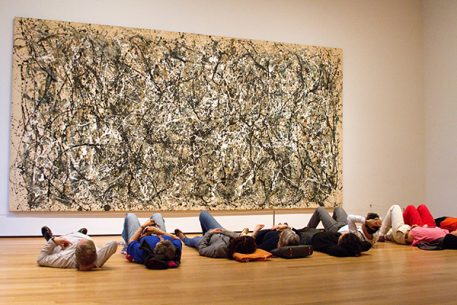 A memorial retrospective of Jackson Pollock art took place in December 1956, the year after his death, at the Museum of Modern Art (MoMA) in New York City, and again in 1967.
Jackson Pollock Art remains one of the most influential of the 20th century. His work continues to be honoured, with many exhibitions at both the MoMA in New York and the Tate in London.