Dale Chihuly Glass Art is quite simply, breath-taking. His bold, flamboyant and incredibly intricate glass sculptures are globally revered and recognised.
Chihuly Glass Art is displayed in over 200 museums and other exhibitions. Dale has also won numerous awards recognising his work and his contribution to glass artistry and specifically to blown glass.
How it all began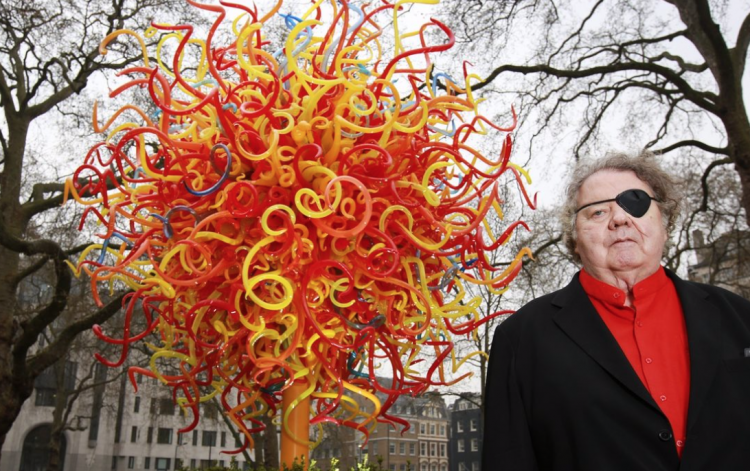 Born in 1941, Dale began his career studying interior design at Washington University. It was during this course that he was introduced to glass and he realised his true passion. This led him towards a teaching career for many years at the Rhode Island School of Design. Dale established the glass program there and taught for over a decade.
Later, in 1968, a Fulbright Fellowship took him to the Venini glass factory in Venice. There he learned glass blowing skills which remain critical to the way he works today.
Iconic Chihuly Glass Art
Dale work is prolific and there are so many to choose from, so here is a small selection of our favourites of Dale Chihuly's iconic glass art

Botanical Exhibitions
Large Scale Architectural Installations are a prominent feature of Dale's work. His love of glasshouses resulting in exhibitions in botanical settings. In these locations, his giant glass sculptures mingle amongst the flora to wondrous effect. Some say it's the perfect marriage of art, science and nature.
''I love the juxtaposition between my installations and the natural elements, and how the work can be both complementary and striking in natural environments ". Dale Chihuly
Kew Gardens recently hosted an exhibition: Chihuly: Reflections on nature. It was a great opportunity to see his visually stunning and colourful art, including large-scale installations, sculptural works, and drawings.
The exhibition ran from 13 April – 27 October 2019 and was a great success attracting hundreds of thousands of visitors. We hope to see Chihuly glass art gracing our shores again!
Boha Visit to Chihuly Exhibition in Seattle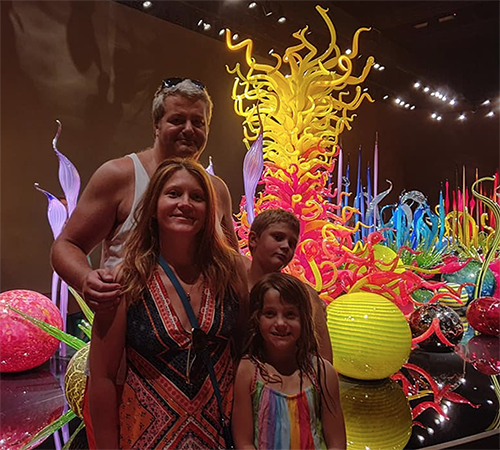 Boha Partners, Anna & Barnaby Kirsen along with their two children, are currently on the trip of a lifetime travelling through North and South America. As part of their travels, they were thrilled to see the Chihuly glass art exhibition in Seattle.
"We have admired Chihuly glass art for years, but had only seen its greatness in pictures. seeing the real thing was an almost indescribable pleasure. The work is mesmerising and we could have stayed there for days! " Anna Kirsen.
Their young children were also blown away. "All we heard were gasps of wow, awesome, amazing all day long". Barnaby Kirsen.
Artist and Entrepreneur
Dale's work is considered to be of outstanding artistic merit in the field of blown glass. His work is held on permanent display at a number of worldwide locations including the USA, Canada, England, Singapore, UAE, and Kuwait.
He is also a very successful entrepreneur and has estimated sales that run into several tens of millions of dollars!  With so much great work already under his belt, we can't wait to see what this world's most celebrated contemporary glass artist will do next!