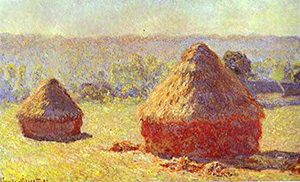 The French artist Claude Monet was born in 1840 in Paris. He is regarded as one of the key artists of the Impressionist movement, which peaked around the mid-19th century. Claude Monet art work includes some of the most iconic paintings of the century. His father ran a grocery business, and his mother was a singer.
Although he was raised as a Catholic, he became an Atheist. Some of his most highly-regarded paintings include the Haystacks series, the Houses of Parliament series, Rouen Cathedral series, Impression, Sunrise and Water Lilies (Nympheas). Each of these works and series have been hugely influential on subsequent generations of artists.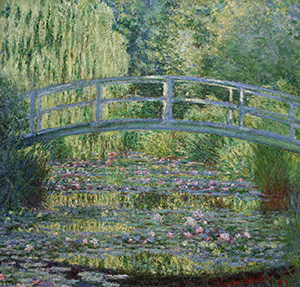 Monet moved to the port town of Le Havre aged five. He started to draw as a young child, creating paintings of various people he knew, such as caricatures of teachers and local residents. His mother supported his aim to become a professional artist whilst his father hoped he would become part of the family business.
The artist's mother passed away in 1857 when he was still a teenager. He then went to live with his aunt. He relocated to Paris to develop his career in 1859 and served in the military as part of the First Regiment of African Light Cavalry. He was released after contracting typhoid fever in his second year, on the condition that he would attend art school. Claude disapproved of the traditional art taught by art schools and became a student of Charles Gleyre. He went on to meet artists including Frederic Bazille, Alfred Sisley and Pierre-Auguste Renoir, who had decided to develop a new approach to art and experimented with brush strokes, finding new ways to depict light more accurately. The new techniques they developed came to characterise the Impressionist art movement.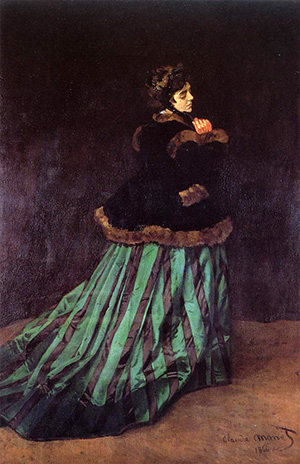 Monet's first real artistic success came with 1866's The Woman in the Green Dress. This Claude Monet art work depicted Camille Doncieux, who later became his wife and also appeared in works such as Women in the Garden. In 1879, Doncieux succumbed to uterine cancer at the age of just 32. Monet painted her shortly before she passed away in what is now regarded as one of the most moving deathbed paintings ever produced. The couple had married eight years earlier, with Doncieux giving birth to two sons.
A substantial portion of Monet art work was produced outdoors. He was accompanied by artists like Renoir and Sisley during many of his outdoor endeavours. Though Monet is regarded as one of the most important artists in history, he struggled greatly with depression and financial problems, even attempting suicide in 1867 following his father's refusal to provide financial assistance after his first son was born. Shortly after this, Monet's fortunes turned around when he won the patronage of Louis-Joachim Guadibert.
Alice Hoschede became Monet's second wife in 1892. Hoschede helped him raise his sons and has six of her own children. The family were based at Giverny, where Monet went on to paint until his death. The Impressionist movement was given its name by a review of his 1872 painting Impressionism, Sunrise. One art critic, who was unimpressed by the painting, gave his review the title "The Exhibition of the Impressionists". The movement eventually consisted of literature and music as well as paintings.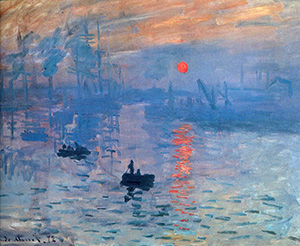 The artist's Nympheas series consisted of around 250 oil paintings produced during the last three decades of his life. These Claude Monet art works were produced whilst his eyesight was in decline yet are widely agreed to be masterpieces. They have been branded the "Sixtine Chapel of Impressionism". His series of views of Rouen Cathedral was pioneering in that it cropped the chapel so only part of its façade appeared on canvas. Monet's approach to capturing light, shapes and colours was truly ground-breaking. The artist was fascinated with how steam, mist, smoke and steam impacted on visibility and colour, tasking himself with capturing light in new, innovative ways and prioritising light and form over realism.
In 1926, Monet passed away after a battle with lung cancer. He survived until the age of 86. Lovers of Claude Monet art can now visit not only his former home but the Museum of Impressionism, also in Giverny.