The other day I was looking through the glass vases results on Google.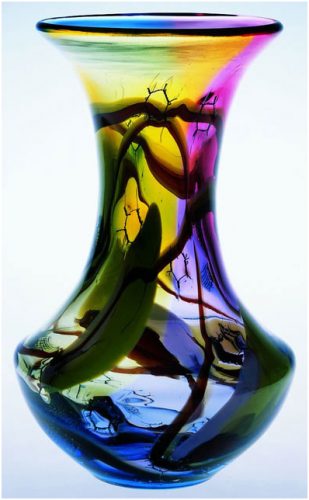 The first thing you notice is that they all seem to be peddling mundane, clear, factory-produced glass vases with about as much character and finesse as a nuisance telemarketer.
There is of course a place in the World for clear dull Glass vases but what about the real gems out there. Ones that are so beautiful you would never dream of putting flowers anywhere near them.
That is what separates the wheat from the chaff. A true piece of art glass is so fab looking on its own that to put some flowers in it would totally besmirch the whole look of the piece. "I am a flower vase in name only dah'ling!" if you came anywhere near it with a bunch of limp daffs.
Glass Vases from Boha Glass
Our tastes in glass vases are an eclectic mix of crystal and colour and they all have their own unique style. Some are in a similar style but the majority of our glass vases are as different as night and day, as different as Renoir and Picasso, as different as fish 'n' chips and a mung bean salad! OK, you get the point. Plus, no two pieces are ever the same as they are all hand blown and every one that is hewn from the molten tempest has its own unique style. The Bohemian Crystal cut glass vase is the exception as it is hand cut to look very similar and is the only one where you will find two items of a similar size and colour.
Our favourite glass vases are the ones where the colours are drizzled together in a stylish and care-free blend of colours that sit deeply within the glass crystal vases. They come alive and dance light across the room as the crystal captures every last ray of light and captivates the eye with a dazzling light show.
All our glass vases are made using the finest Bohemian and Polish crystal and the brilliance of the items shows off the exceptional quality of these unique glass vases, all personally signed by their talented creators.