Boha Glass are proud to announce a new studio glass artist from Lithuania. Our latest Studio Glass artists is the well renowned Remigijus Kriukas.
Remigijus has an eclectic style that covers everything from Modern raw glass pieces to soft teardrop in a collection of colourful options.
He manages to control bubbles within glass to create wonderful patterns that are fascinating to behold.
He creates glass in sumptuous colours that enthrall the viewer and contours that are both cool and vibrant.
With such a fabulous range of products we were hard pressed to choose which ones to purchase.
Studio Glass Artist Christmas Gifts for Men
The items we have chose would make a wonderful Christmas present for a husband or high net worth client.
They are urban and stoical and would make perfect fit in any study or office. we always try to buy items that will appeal to both men and women and feel that these will be a good choice for both companies and individuals looking for that perfect gift.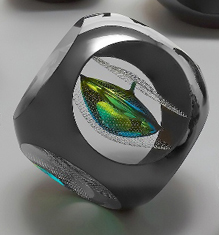 Remigijus Kriukas is a studio glass artist of European-wide fame and deserves a far wider reputation.
He is our first Lithuanian studio glass artist but we hope to make a trip to Vilnius soon to get better acquianted with Lithuania.
Lithuania already has a reputation for ceramics – now it's time to bring their studio glass artists to a wider audience too.
His stunning Teggno ornaments can be seen in our shop, and we hope to bring you more of his work in the very near future.
There is a friendliness and a warmth in his work that is hard to quantify. He has an appeal that is fun and gregarious while also being a studio artist that produces work of exceptional quality.
This is a studio glass artist with a great deal of style and an eye for captivating design.