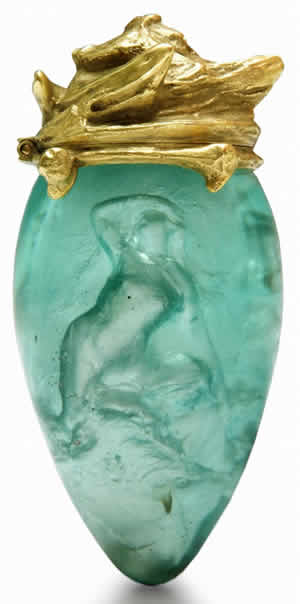 By the late 1800s, famous artist Rene Lalique had already changed the face of jewellery-making forever, having convinced Victorian consumers and collectors that the design of a piece of jewellery was just as, if not more, important than the value of the stones set in it. His nature-inspired pieces, which often depicted animals and the female form and used natural materials like shell and pearl, have become part of the essential iconography of the celebrated "Art Nouveau" period.
But what does an artist do when he has reached the pinnacle of his craft? Ultimately, there are two choices: stick with what one knows best and risk becoming complacent, or try something entirely new. The fearless Lalique chose the latter path, and began to turn his attention to glassware.
Rene Lalique began designing and creating designer perfume bottles around 1907, while working in close partnership with perfume-maker Francois Coty. The idea of a "designer" perfume bottle was at that time unheard of, making Lalique the inventor of the concept. During that period, perfume was sold in ordinary glass vials, and any more ornate vessel for it had to be purchased separately, and cost more than many average women could afford. But Lalique, as inventive an industrialist as an artist, designed a manufacturing process which enabled the production of designer perfume bottles on a large scale, making the product widely available and affordable to women of all classes. Lalique's work for Coty has since become legendary, with the containers and beautiful labels he created for some of Coty's early successes (such as L'Effleur and Ambre Antique) being a favourite among collectors.
As was the case with so many things Lalique did, his new concept of marketing perfume in beautiful vessels caught on like wildfire; over the coming years, he designed more than 250 unique perfume bottles. The designs were in large part utilized by the Maison Lalique, along with other fine perfumers such as Worth, Houbigant, Guerlain, D'Orsay, Gallet, Rogeret and more. He is responsible for such memorable creations as the beautiful dove flacon for Nina Ricci's L'Air du Temps, and Sirenes, the mythical sirens and algae motif near-tear-drop shaped Cire Perdue Perfume Bottle, designed in 1905.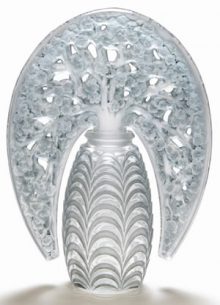 By now, all of Rene Lalique's perfume bottle designs have been showcased in various exhibitions taking place all over world, including Germany, Japan, France, and the United States. These beautiful bottles, with their myriad motifs ranging from blackberries, to insects, to eucalyptus leaves, to delicate nude figures gracing imaginary gardens, have become great favourites with modern antique enthusiasts. Perfume bottles by Rene Lalique are some of the most sought-after items at auction houses, and many of his creations have sold for over $100,000. Unopened and still-sealed perfume bottles that come complete with their original packaging can go for even greater sums. Looking at these beautiful little pieces of art, it's not hard to see why; not only are they exquisite in design, they capture the entire mood of the Art Nouveau era at its finest.
Guest article by
JL Field