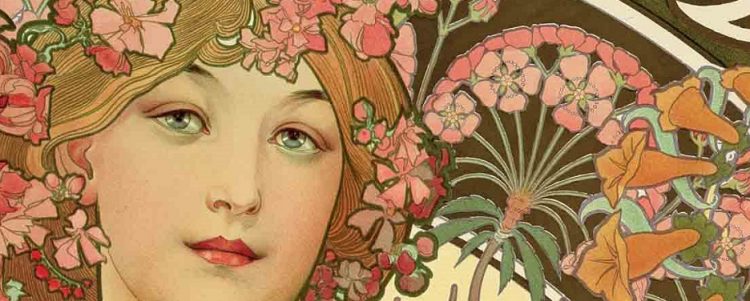 Art Nouveau Glass was part of a movement that spread across Europe between 1890 and 1905 and still echos through some of today's artwork.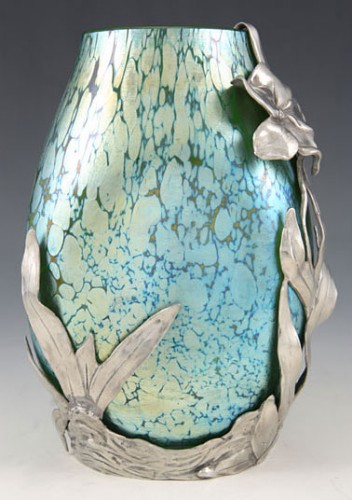 The movement took its name from a Paris shop; La Maison de l'Art Nouveau ; a keen proponent of rising art styles.
At the World's Fair in Paris in 1900 the Art Nouveau style was showcased and the 'New Art' became exceptionally popular.
The entrance to the Paris Metropolitan station was later redesigned in an Art Nouveau style.
Art Nouveau's foundations can be seen in the British Arts and Crafts movement led by Wiliam Morris, which focused on traditional hand wrought items and spurned mass production.
From dragonfly jewellery to Tiffany lamps, Mucha graphic art and grand Gaudi architecture; the influence of Art Nouveau spread far and wide.
As it was a well travelled movement, each country had it's own take on Art Nouveau but a general trend was for highly decorative and flower filled art with organic curvaceous lines.
It delighted in nature and Art Nouveau was often resplendent with flowing female locks of hair, stylised flowers, tendrils and leaves; an art form in harmony with nature.
The most famous graphic artist was Alphonse Mucha who produced some wonderful Art Nouveau art.

Art Nouveau Glass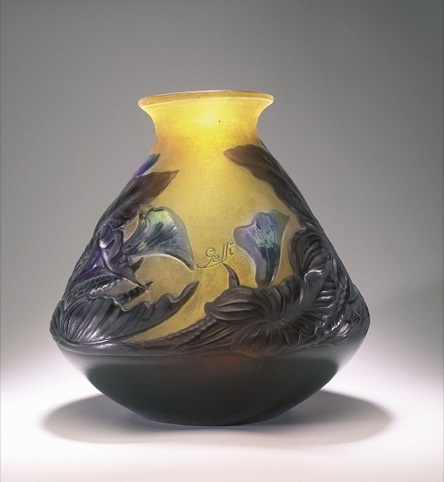 Many names are synonymous with Art Nouveau Glass:
Czech (Bohemian) – Moser, Loetz, Kralik, Palda, Harrach, Pallme-König, Hoffman and Rindskopf.
US – Louis Comfort Tiffany and Dugan
UK – Thomas Webb, Richardsons, Charles Rennie Mackintosh and John Walsh
France – Lalique, Galle, Baccarat, Legras and Daum
Germany / Poland – Fritz Heckert, WMF Ikora, and Theresienthal
As well as using the motifs of nature, Art Nouveau glass sometimes used a feather combed style with an iridescent finish. This is similar to the work featured by Daniel Stepanek.
Another beautiful feature of many pieces of Art Nouveau art glass is the embossed style which gives the glass pieces a genuine depth.
As Art Nouveau glass evolved and changed, Art Deco evolved and carried the torch into the realm of Rene Lalique and a new era was born.