History of Salvador Dali Art
Salvador Dalí was an iconic Spanish surrealist, and one of the most lauded figures in the history of art. Dalí is famous for his bizarre, dreamlike images.  He completed his most well-known piece, The Persistence of Memory in 1931 and experimented in film, photography and sculpture. Dalí was famed for his eccentricity, and his often bizarre public behaviour often attracted just as much attention as Salvador Dali Art did itself.
Early Years
Dalí was born in 1904; nine months after the death of his brother, also named Salvador. Dalí was told and believed that he was his late brother's reincarnation and later featured in works like 1963's Portrait of My Dead Brother. He discovered modern painting in 1916, and his first public exhibition took place at Figueres' Municipal Theatre three years later. Dalí studied at the Real Academia de Bellas Artes de San Fernando in the early 1920s and soon drew attention because of his eccentric behaviour as well as his Cubism-inspired paintings. He illustrated his first book in 1924 and started to experiment with Dada. He was expelled from the Academy in 1926 and met Pablo Picasso in Paris the same year.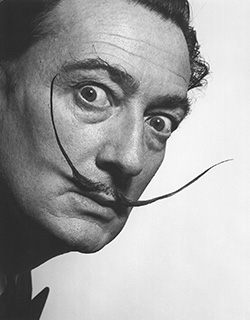 Whilst he was developing his own Salvador Dali art style, he took significant influence from artists like Miró and Picasso. Features that are now inseperable from Dalí 's work were already featuring in his work by the late 1920s. He fused classical and modernist techniques and saw his works being met with both praise and perplexity. He took influence from avant-garde and classic art movements and grew his famous, iconic moustache around this time.
Dalí and Gala
The artist worked with surrealist director Luis Buñuel in 1929 and met his muse Gala the same year. He joined the Surrealist group in this year and fell out with his father after producing a Salvador Dali Art drawing featuring the words "Sometimes, I spit for fun on my mother's portrait". Dalí refused to apologise, but they went onto mend their relationship years later, with Gala finally receiving the approval of her husband's father.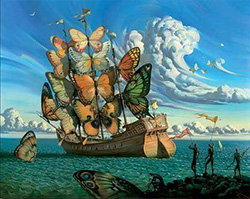 "I myself am surrealism"
The Peristence of Memory featured an image of melting pocket watches, which was seen as a comment on the flexible nature of time. The work also depicted an expanding landscape and watches attracting ants. Dalí and Gala married in 1934, and their relationship lasted for more than half a century. Salvador Dali art was exhibited in the US for the first time in the mid-1930s. Dalí refused to align himself to either left or right-wing politics but was expelled from the Surrealist group after being accused of supporting Hitler. He denied the claims and said "I myself am surrealism" following his expulsion.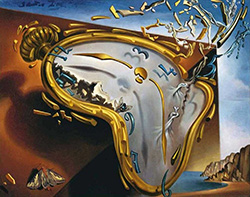 Dalí Versus the Surrealist Movement
Dalí featured on the front of Time Magazine in 1936, the same year as he gave a lecture at the London International Surrealist Exhibition wearing a helmet and diving suit. He worked with his financial backer Edward James on two pieces, the Lobster Telephone and the Mae West Lips Sofa and met Sigmund Freud in 1938. The 3D artwork Rainy Taxi piece was unveiled the same year, whilst the Dream of Venus surrealist pavilion was debuted in 1939. The pavilion featured sculptures and nude models wearing costumes made of seafood.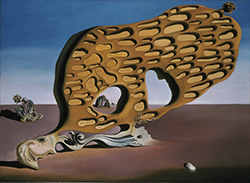 Many surrealists had turned their backs on Dalí by the point, accusing him of being increasingly motivated by money.
The US Years and Return to Spain
Dalí moved to the US during WWII and worked on clothes, stage sets, jewellery, furniture and more during the 1940s. His autobiography was published in 1942. Dalí and Gala returned to Spain in 1948. His later works included pointillist pieces, stereoscopic images and optical illusions. He also experimented with holography and was cited as a huge influence by modern artists like Andy Warhol. The most famous post WWII Salvador Dali art works included The Madonna of Port Lligat and the Nuclear Mysticism pieces La Gare de Perpignan and The Hallucinogenic Toreador.
Final years and death
During the 1970s, Dalí and Gala were spending more and more time apart, with Gala retreating to the castle he had bought her for lengthy period. Dalí 's subsequent depression and poor health were linked to his estrangement from his wife. He was experiencing trembling hands by the start of the 1980s. Gala died in 1982, and it's said that Dalí attempted suicide by dehydrating himself as a result. His final painting, The Swallow's Tail was issued in 1983. He died of heart failure in January 1989.