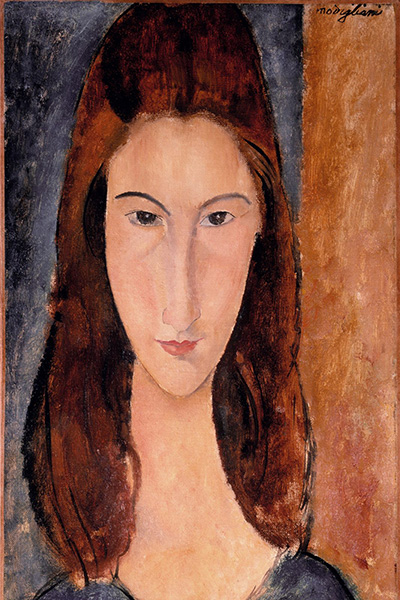 Amedeo Modigliani was an Italian painter largely based in Paris whose career peaked in the early 1900s. The artist is known for his portraits of various Parisians, which were influenced by African art. Modigliani was Jewish, and was always open about his faith even at a time where anti-Semitism was rife in France. Many of his paintings depicted his friends as well as other artists, and he lived a classic Bohemian lifestyle, using drugs and alcohol excessively, living in a dilapidated property and spending a great deal of his time hungry and penniless. Read on to learn more about Amedeo Modigliani art.
Modigliani had a fiery temper when under the influence of alcohol and once destroyed a painting after he was asked to sign it by someone who wanted to increase its value. Due to his financial struggles, he regularly paid his landlords with paintings rather than cash, even when they were unhappy with this arrangement. The pieces in question are now worth millions of dollars, but the artist did not receive substantial recognition in his lifetime.
The artist died of meningitis at the age of 35. His fellow painter girlfriend Jeanne Hébuterne was pregnant at the time but committed suicide in response to his premature death, leaping from a multi-story window. Hébuterne, who he first met in 1917, was depicted in several Amedeo Modigliani art works.
Also known for his work in sculpture, Modigliani was once spotted writhing around on the ground hugging his statues after smoking hashish, which was thought to be his drug of choice. Many Amedeo Modigliani art pieces depicted full-figure nude subjects with elongated bodies and blank eyes, and he had friendships with various well-known artists including Picasso.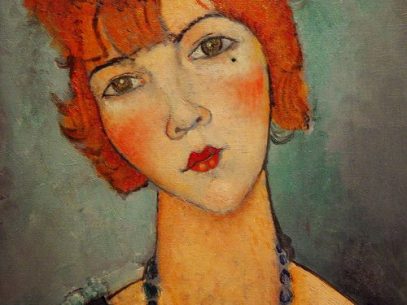 Modigliani was born in 1884 and moved to Paris in his early twenties, in 1906. Though he started his career with drawings and paintings, he moved into sculpture in 1909. In fact, he regarded himself as a sculptor rather than a painter. He received a great deal of encouragement from the art dealer Paul Guillaume, who introduced him to the Romanian sculptor Constantin Brâncuși. Modigliani worked under Brâncuși for a year. Prominent figures that appeared in his paintings and sculptures included Picasso and Diego Rivera.
In 1910, Modigliani had an affair with the married artist Anna Akhmatova, who he drew 16 times and was almost a foot taller than him. When Akhmatova left Paris for Saint Petersburg, the pair continued to write to each other frequently, before she returned to the city and Modigliani alone. Standing Nude in Profile with Lighted Candle was just one of the paintings Modigliani drew of Akhmatova. Modigliani descended deeper and deeper into substance abuse following the end of the relationship, with a particular focus on hashish and absinthe. By 1919, the artist's teeth were gone and he was experiencing delusions.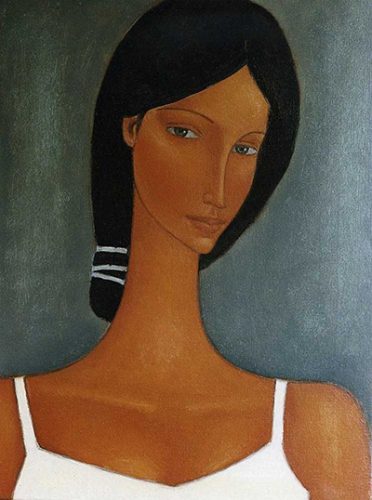 Modigliani created some of his most well-known works between 1916 and 1919, including numerous nudes that had been commissioned by his dealer Léopold Zborowski. Modigliani held his first one-man exhibition in Paris' Berthe Weill Gallery in December 1917. However, the chief of the Parisian police forced the artist to end the exhibition after just a few hours, outraged by the Amedeo Modigliani art nudes on show. The exhibition did continue nonetheless, reportedly due to the removal of offending paintings from the venue's front window. Nude Sitting on a Divan was a nude painted in 1917 that was met with a glowing reception. The oil on canvas painting Nu couché (or Reclining Nude) fetched $170,405,000 at a Christie's action in 2015, which was the biggest figure ever paid for a Modigliani piece and made it one of the most expensive paintings of all time. In 2010, his sculpture Tête become the second most expensive ever sold.
When Hébuterne became pregnant with her second child, the couple became engaged, much to her parents' distress, who were unhappy about his hedonistic reputation. The wedding did not go ahead, not because of the annoyance of Hébuterne's parents but due to Modigliani's diagnosis with severe tuberculosis. It's thought that the artist was happy for onlookers to view him as an alcoholic and drug addict rather than a carrier of an infectious disease, which he decided to keep secret.
The closing stages of his life were spent in a neglected, mould-ridden apartment with Hébuterne and their daughter before he died in hospital. The artist has been the subject of films including 1958's Les Amants de Montparnasse and 2004's Modigliani. His life and works have also been documented in at least nine novels and one play.