Glass Paperweights are as popular today as they have ever been and come in a rich variety of shapes and styles.
One of the great Eastern European glass paperweight artists – Adam Jablonski – has now retired. He had a wide range of styles and produced masterful glass paperweights encased in glass crystal which gave a dazzling finish to all his works.
The last few glass paperweights he ever produced were snapped up by Boha Glass to provide our clients a chance to own a mini Jablonski and to also offer something that practically anybody could afford.
Most of our Art Glass is over a £100 so it is great to be able to offer something that is not only exceptionally beautiful but also wont break the bank either.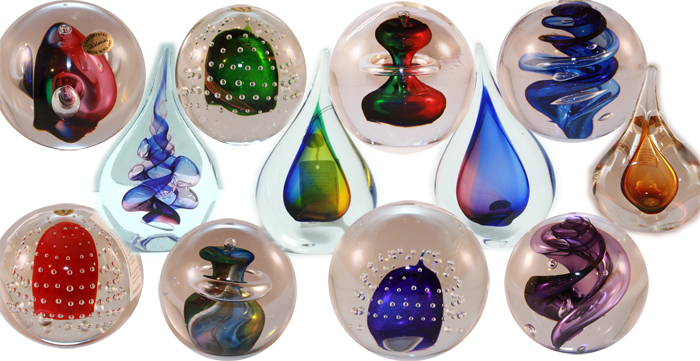 Glass Paperweights – A Colourful History
Glass paperweights began to be made in France in the mid nineteenth century but really took of from the mid twentieth century and have never looked back.
Encased in a sphere or dome of glass the paperweight was designed to be handled so that you could look into the piece from a number of different angles and had a flat base so that it would sit firmly on a table, shelf, sill or mantel.
The most expensive glass paperweight ever sold was a classic French piece that went for over $250,000
There are many types of paperweight, the two most notable being the Millefiori and the Lampwork.
Millefiori means a thousand flowers in Italian and is made using tiny cylindrical canes made from coloured rods that are sliced in cross-section to reveal their design like sticks of rock. The design can be flowers, or letters or any other design the cane maker decides.
Lampwork paperweights are made by using a gas burner to melt coloured glass rods into butterflies or flowers etc and then these colourful compositions are embedded into glass paperweights.
You can find out more about glass paperweights at the Corning Glass Museum's Paperweight site