The small but passionate segment of the antique art glass community who become devoted collectors of Monart glass soon run into a perplexing phenomenon: Many of the "lookalikes" that pass for Monart glass are not in fact modern fakes, but are instead the work of the same family responsible for creating the pieces Moncrieff glassworks marketed as Monart.
In a strange twist, Scotland's most prolific art glass family wound up in competition with itself when, in 1946, Salvador Ysart and two of his sons, Vincent and Augustine, left Moncrieff's. They soon set up their own glassworks, Ysart Brothers Glass, which was located in disused Moncrieff buildings on Shore Road in Perth; it was here that they would go on to produce hand crafted glass under the Vasart label. (The name "Vasart" was chosen to represent each of the three Ysarts working at Ysart Brothers Glass by taking each man's first initial and pairing it with the -art from Ysart.) Paul Ysart, Salvador's most talented progeny, remained at Moncrieff's.
What compelled Paul to stay behind? No one is entirely certain, but due to the difference in quality between the pre-war Monart pieces and most Vasart pieces (with the former obviously and consistently being the work of a very skillful hand, and the latter having more of a mix of deftly made pieces and mediocre ones), it has been speculated that many of Monart's most prized and collectible pieces were likely made by Paul Ysart, rather than Salvador, and this may have had something to do with the split. Paul likely felt under-recognised and sought to differentiate himself from his father so that his unique talents might shine.
There was also, by all accounts, something of a clash between the strong-minded men. Salvador seems to have had an irascible, volatile, and domineering temperament, and Paul was obviously a man of great artistic vision (going on to create some of Scotland's most famous art glass paperweights), so a schism was perhaps inevitable. This anecdote, courtesy of the Glass Museum Online, suggests that Salvador and Paul had endured a tempestuous dynamic for years prior to Salvador leaving Moncrieff's.
"Paul's father, Salvador (who trained in France and Spain), had used millefiori canes in the 1920s as experimental decoration for a cup and bowl. It seems likely, therefore, that Paul learned basic cane techniques from his father. However, Salvador did not initially share Paul's enthusiasm for paperweights and Paul, being strong-minded and fascinated by French cameo weights, set about producing his own versions without any help [Paul himself would later recount his father calling him a "silly kid" when he first began developing this skill]. He re-invented 19th century methods, adding innovations of his own like using cameos from the Woolworth store to make some of his cameo moulds."
Whatever the nature of the conflict with Paul, it was not the only reason that Salvador left Moncrieff glassworks; post-war restrictions prohibited Moncrieff from resuming its production of creative hand crafted glass, and Salvador was eager to get back to it.
Salvador did not seek to merely recreate the sort of pieces he had made for Moncrieff (indeed, he swore that he would take Vasart in an entirely distinct direction), but nevertheless, Vasart glass is similar to Monart in terms of many of the general shapes and styles used. Where one truly sees a difference is in the use of colour: Vasart glass tends to showcase a range of softer, more pastel shades, whereas Monart is bold and assertive in hue.
There were two underlying reasons for this change: One, of course, was simply the evolving styles of the time—the post-War period saw the demise of Art Deco, leading many home interiors to shift away from strong, dramatic decor—and the other was post-War supply problems making the acquisition of the materials needed for more vivid colours difficult.
Even in this area, there was some overlap between Monart Glass and Vasart, however: Earlier Vasart pieces were made with leftover colours and aventurine that the three Ysarts had brought with them from Moncrieff, and similarly, later (post-War) Monart pieces also exhibit the use of more pastel shades (no doubt this shift occurred for similar reasons as Vasart's). It is such grey areas (along with the existence of many sticky-labelled rather than signed pieces), and the amorphous nature of hand crafted glass in general, which make identifying Monart glass from Vasart glass at times challenging. In differentiating between post-War Monart pastel pieces and Vasart pieces, compare the brightness and subtlety of the pastel in the piece you have against the average Vasart; if the pastel seems brighter and less soft in nature, you may well have a Monart piece rather than a Vasart.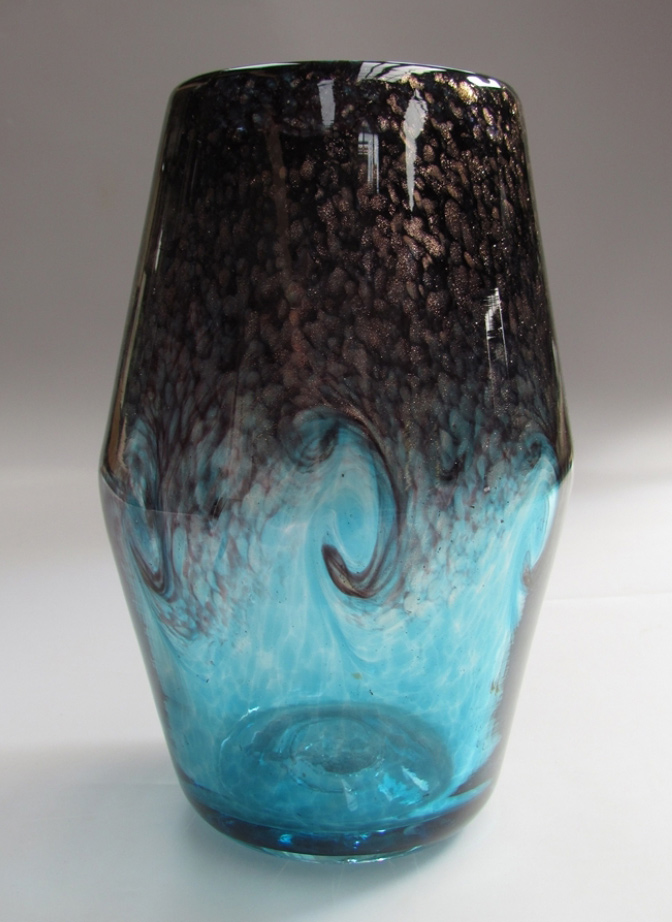 Common Vasart colour schemes include balancing a lighter shade at the bottom with a darker one at the top, with swirls in contrasting colours being worked into the joining line of the two shades, and the use of coloured canes around the centre of vases (these may be visible, or be blurred splashes of colour, depending on the piece—Vasart glass is highly variable, even by the standards of hand crafted glass).
Vasart's signature pieces—standing out as unique among the usual assortment of vases, bowls, fruit sets, ink bottles, and so on—are no doubt its range of "Mushroom lamps". Vasart produced a distinctive double-globe mushroom lamp (which does not have a Monart equivalent), as well as an unusual "tulip lamp" (very popular in its day), which has the appearance of an inverted flower with a petal-shaped top edge and a deep "bulb", allowing the lamp to be lit from the inside and the light to glow out through the delicately coloured glass.
The three Ysart family members responsible for producing Vasart glass kept manufacturing their range of post-War hand crafted glass until 1964, when a peculiar accident led to the transformation of the company: Over at Teacher's whiskey, a lone glass bottle was accidentally left overnight in a potter's oven, resulting in it becoming "squashed" in appearance. Whoever found the unfortunate bottle the day after noted that it would make a rather sublime ashtray, and as such, it was eventually given to Mr. A. K. Bergius of Teacher's whiskey. He was so enthralled by the novelty value of the ashtray that he scoured the country high and low looking for a glass manufacturer who would try to reproduce it, but no one would agree to do so except Vincent Ysart.
After many long and frustrated nights spent tinkering with special furnaces, gas jets, and bricks, Vincent finally succeeded, and the collectible Teacher's ashtray was born. So successful was this ashtray that production soon reached 500 units per month (with no signs of slowing down), overwhelming the tiny Ysart Brother's glassworks. Teacher's therefore decided to take over the Ysart's little company, moving it to a new and much larger glassworks and renaming it "Strathearn glass". While the Ysarts were not heavily involved with Strathearn—Vincent left after about a year—it carried on the tradition of their colour and design aesthetic for many years after his departure, producing art glass of appreciable quality until about 1973.