Monart glass has, in recent years, finally begun to garner some much-deserved attention on the antique market, with rare pieces fetching as much as £2000 at auction. While this trend reflects an overall growth of interest in, and appreciation for, Scotland's plentiful contribution to modern glass art, many Scottish glassworks still remain shrouded in great deal of mystery and confusion.
Moncrieff's Monart range is particularly befuddling to amateur collectors owing to its similarity to Vasart glass and rather lackadaisical approach to identification; Monart pieces were rarely signed, and were typically only identifiable as Monart by a sticky label pasted to the bottom of the piece.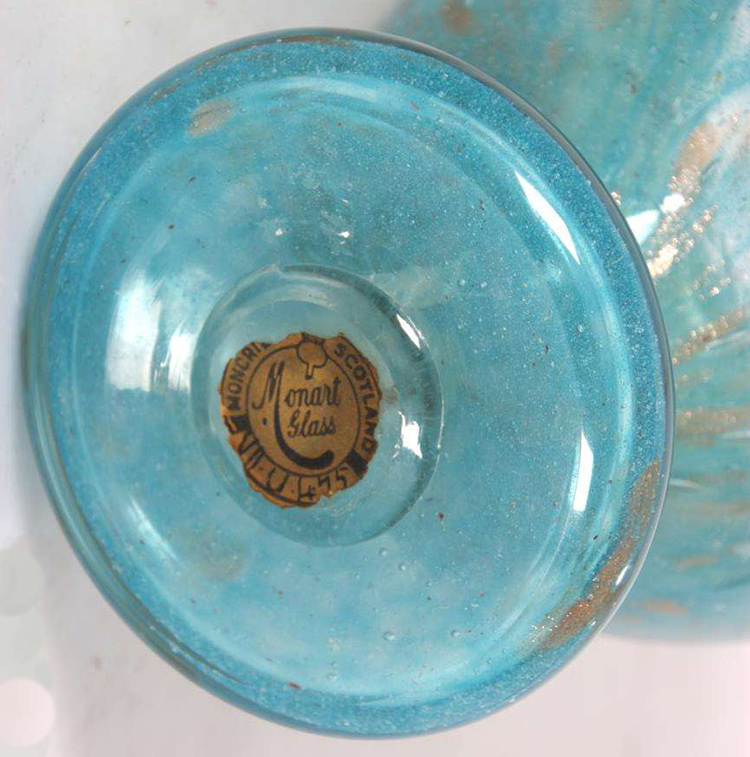 To understand and recognise Monart is to know its place within the rich tapestry of the Ysart family's many modern glass art efforts; indeed, the very name "Monart" is a portmanteau of "Ysart" and "Moncrieff". The Moncrieff glassworks had been predominantly involved in the production of practical, utilitarian glass items (such as glass tubing and heat resistant glass for steam gauges) until John Moncrieff met and married a young woman by the name of Isobel Dunlop. Isobel took an active interest in the glass business, and brought to it a rare, inspired sense of vision. One day, she noticed the experimental blown glass pieces Salvador Ysart was making in his spare time after hours and immediately saw that Salvador had the potential to create unique and compelling modern glass art. (It is unclear which piece caught her eye, exactly; some reports suggest it was Salvador's "glassblower's friggers", casual pieces which were often made at the end of the day to both make use of leftover glass rather than waste it, and to allow the glassmaker to indulge in some creative freedom, but other accounts claim it was a piece Salvador made as a prize to give away at a local church raffle).
Isobel was educated in the arts (and evidently fairly passionate about them), and had a friend, Mrs. Elizabeth Graydon-Stannus, who was quite active in the art glass scene of the day (she became rather notorious for creating glassworks of her own wherein workers blatantly copied Lalique's pieces). Ergo, it is very likely that Isobel picked up on Salvador's expert knowledge of the Nancy movement and his skilled application of the various coloured enamels he had brought over with him from France, and thereafter came to the logical conclusion that Moncrieff had chanced upon something of a goldmine. She was soon enthusiastically steering her husband John around to the idea of manufacturing a line based on Salvador's style, and in 1924, Moncrieff started to produce Monart glass in a limited capacity (mostly in response to special orders).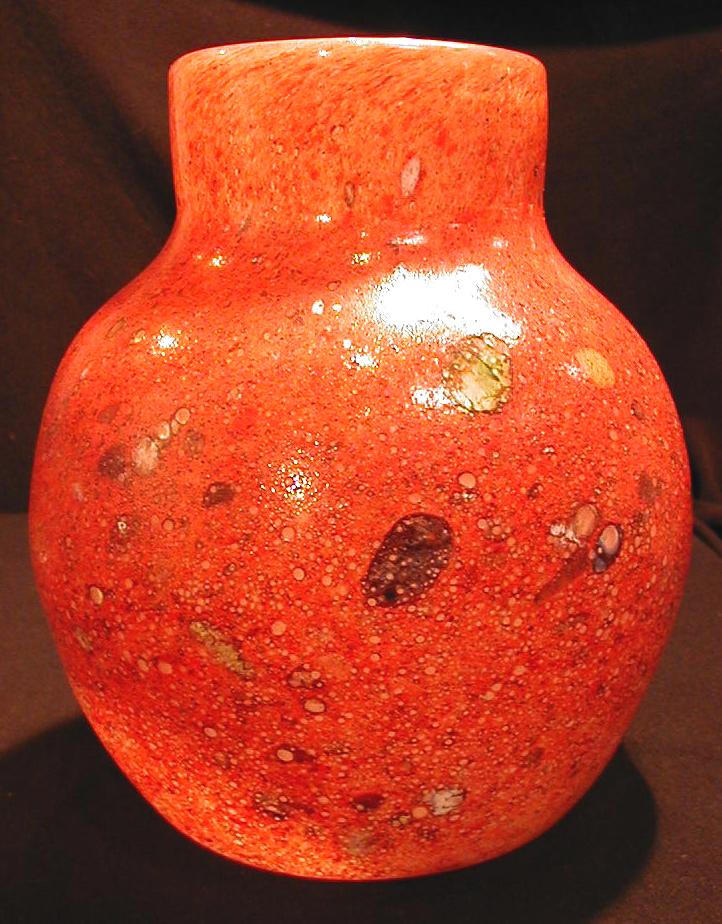 Unlike many Art Deco glass styles which are highly collectible today (e.g. carnival glass, the majority of Czech pieces, uranium glass), Monart glass actually started out as a luxury item, rather than something manufactured with the intent of being sold to the masses, or to be given away as a "freebie" incentive by various salespeople driven to desperation by the tight Depression-era marketplace. Isobel aggressively marketed the glass to Liberty's of London and other similar "prestige" stores within the UK—it is this high-end focus which is likely responsible for the relatively decent quality of Monart glass, which is often said to be of superior make as compared to the Ysart family's later efforts (i.e. Vasart).
Isobel was even involved in the early design of Monart pieces, helping Salvador to develop patterns and select colours, but her influence was put on hiatus in 1933 when John Moncrieff was forced to resign as the Chairman of Moncrieff and sell his shares as part of the company receiving additional financing from the British Linen bank. (She reappeared in 1947, however, and seems to have had some involvement in Monart again until her passing in 1961—fittingly, Monart itself was to go out of production soon after. One of her most notable contributions was to the design of the Princess Elizabeth Perth Wedding Gift set in 1947; the set, composed of two decanters, twelve goblets, six sweetmeat dishes, twelve finger bowls, and a large fruit bowl, can be seen on display at Balmoral Castle.) During Isobel's absence, Salvador enlisted the aid of his sons, Paul, Vincent, and Augustine, in the design and production of Monart glass.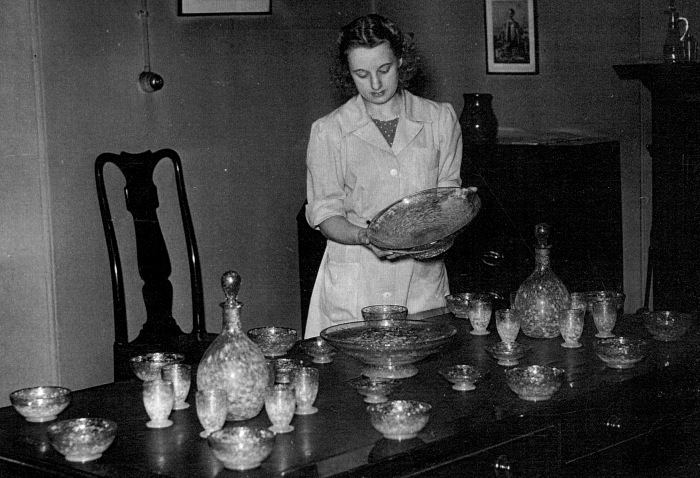 Moncrieff stumbled considerably after Isobel's death, going through a number of changes (including a name change to "Monax") and very nearly dying out altogether in 1995; today it is known as John Moncrieff Ltd. and operates in a reduced capacity as a glass trading company. As such, Monart remains this small Scottish glasswork's only real contribution to modern glass art.