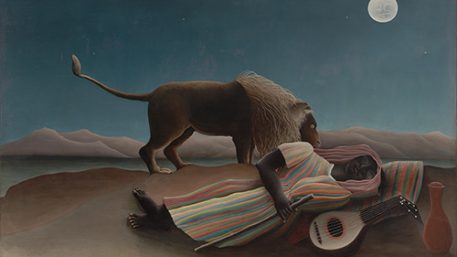 Henri Rousseau was born in France in 1844. He achieved modest success at school overall, but fared far better in music and art. He left school and worked for a lawyer for some time, before joining the army in 1863 and serving for four years. When his father died in 1868, he moved to Paris to care for his mother. He took on numerous jobs before becoming an artist, working as a government official and a collector of import tax. He had six children with the daughter of his landlord, Clemence Boitard, though all but one passed away during childhood. Clemence passed away in 1888, and he then married Josephine Noury ten years later.
Henri Rousseau Art career didn't begin until his late forties. He was self-taught, which led to his art being regularly described as child-like. He was also an impressive violin player, and he often performed on the streets of Paris to boost his income. The artist was noted for his jungle-themed paintings despite having never visited a jungle. Many of these paintings were actually inspired by the botanical gardens of Paris and illustrations he saw in books.
Rousseau was able to count various well-known figures amongst his admirers, including Pablo Picasso, who even honoured the artist with a banquet. Rene Magritte was also a lover of his work. Rousseau's most well-known works include The Sleeping Gypsy, The Dream and Tiger in a Tropical Storm. He is widely regarded as the finest painter without a formal artistic education. He was dismissed by many in the art world whilst he was alive but is now seen as one of the greats.
The artist was forced to serve seven years in the French army in order to avoid a lengthy jail sentence. His punishment came after he committed perjury. He did serve one month in prison. Throughout his time in the armed forces, not once did he witness combat. His second wife Josephine died just four years into their marriage. He was also known as 'La Douanier', which is French for 'the customs man'. Whilst he was collecting tax on goods brought into Paris, he was able to use his ample free time to develop his artistic skills. The irony of his nickname was that he was never officially given the title of 'Douanier'.
One of his most famous works, The Sleeping Gypsy depicted a lion looking over a sleeping woman under the moonlight. The piece is one of the most well-known artworks of its era. Picasso discovered Henri Rousseau artwork in a junk shop. The banquet took place eight years later and enabled Rousseau to forge links with a string of influential artists and become the figurehead of naïve art.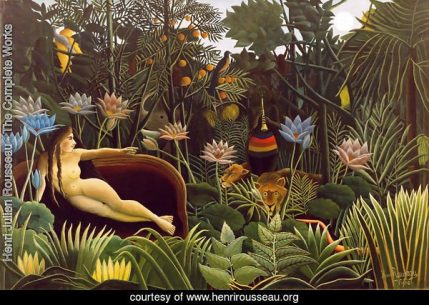 In 1907, when Rousseau was aged 63, he was persuaded to take part in a bank fraud by his musician friend Louis Savaget. It is still not known whether he was tricked into this or not. He used his reputation for naivety in his defence, a claim which was supported by his associates. As a result, he was released from prison.
Whilst the artist did receive mentorship from artists like Jean-Leon Gerome and Felix Auguste Clement, he mainly taught himself. He never studied art under the supervision of any tutor or followed any set technique or method. He said his only real teacher was nature itself.
The Dream is regarded as another classic Henri Rousseau artwork. This piece was a vast oil-on-canvas painting created in 1910. It was one of over 25 paintings created by the artist with a jungle theme and was his final completed work. The painting was exhibited in Spring 1910 at the Salon des Indépendants and helped sway the attitude of the artistic community in his favour, with Salon des Indépendants saying it radiated beauty. The piece also won vast praise from the surrealists.
Henri Rousseau died in September 1910 after contracting blood poisoning from an infected leg wound. He has influenced including Jean Hugo and Max Beckmann as well as Picasso and was also known for his self-portraits. The poet Sylvia Plath was also a deep admirer of his work, with the Joni Mitchell song The Jungle Line being inspired by Henri Rousseau art.