Our new collection of glass ornaments has just arrived in from the far side of Eastern Europe.
The master glass maker Remigijus Kriukas has surpassed himself once again with this fine collection of Glass ornaments.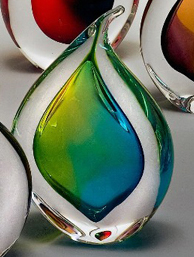 Remigijus is an artist in complete control of his medium and manages to create miniature masterpieces that are impossible to fathom how he makes them.
He is always innovating his style and setting new standards of excellence in the Glass Art World and has garnered a fan base that stretches well beyond his homeland.
You will find his glass ornaments gracing the collections of many fine establishments and he has held many great exhibitions both at home and abroad.
Work of this quality is as unique as it is rare and signed pieces by Remigijus are highly sought after by Art Glass Collectors.
Art Glass Ornaments as an Investment
When the banks are paying so little in interest it is no wonder that so much of the smart money has moved into Art. With some pieces rising by as much as 20% a year it is a great long term investment.
Sometimes people will buy ornaments and keep them boxes in the loft to ensure they get top dollar price for their art glass ornaments but we think that this is a real shame. Far better to put the piece in pride of place and enjoy it for many years. If it is well looked after it will still be a great 'nest egg' for the future.
Handmade Glass Ornaments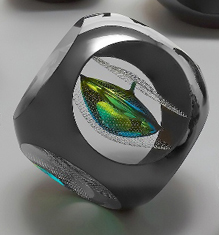 Each one is lovingly handmade and all these blown glass ornaments are personally signed by the Great Man himself.
The pieces were bought by our Polish Office before being carefully wrapped and carried over here by our Polish transport company.
They all arrived in perfect condition, each one carefully and individually boxed to ensure safe passage.
Boha Glass is exceptionally honoured to offer such great works of Art at such an affordable price, enabling everyone to own are real piece of Art for themselves.
All our Remigijus glass ornaments are personally handmade and signed by him.