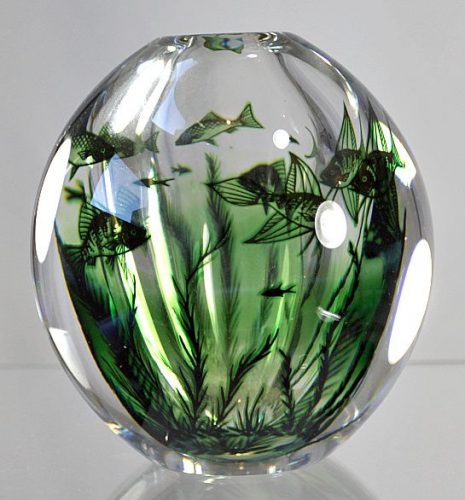 Scandinavia is a region defined by its natural splendour: From long aurora-lit winter nights to clear streams full of striving wild fish and forests resplendent with soaring pines, this northern landscape is nothing short of breathtaking. It's therefore unsurprising that natural hues and motifs often make their way into the best Swedish art glass, with one historic glassworks—Orrefors—standing out as particularly emblematic of this uniquely Nordic style. Their pioneering glassmaking techniques, particularly the multilayered Graal technique, encapsulate the spirit of depth and majesty that infuses their Swedish homeland.
The Humble Beginnings Of Orrefors Glass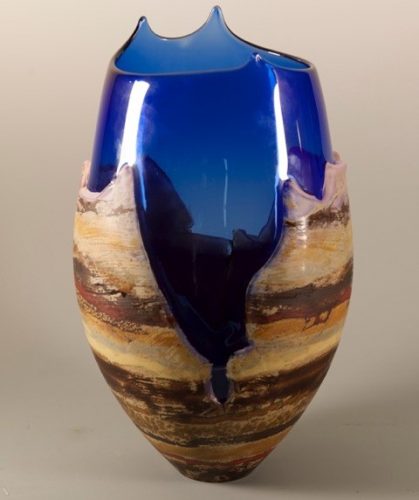 Orrefors glass began as a practical, rather than artistic, endeavour. When the glassworks was originally founded in 1898 in Smaland, Sweden, on the site of an existing 18th century ironworks, it was intended to merely supplement the income generated by the ironworks. (It is believed that the name 'Orrefors' was originally a portmanteau of 'Orra' from nearby Orranas lake and 'fors', from the rapids by which the ironworks once stood.) To that end, during its first decade of existence, the Orrefors glassworks churned out a steady supply of inexpensive, unremarkable tableware and utilitarian glass bottles.
Change came to the fledgling glassworks in 1913, however, when a wealthy businessman named Johan Ekman purchased the ironworks, the glass factory, and the extensive surrounding woodlands. Ekman wanted the Orrefors name to conjure up images of elegance and luxury—images he no doubt wished to be associated with himself—so he set about making a number of drastic changes to the site. First, he shut down the ironworks completely; then, he brought in Albert Ahlin (the manager of his prior cellulose factory) to take the helm at Orrefors. Ahlin immediately hired a star team of glass masters: Oscar Landas, Kosta's Eugen and Knut Bergkvist, Fritz Blomqvist, and Heinrich Wollman (who brought a number of important Bohemian techniques and influences with him).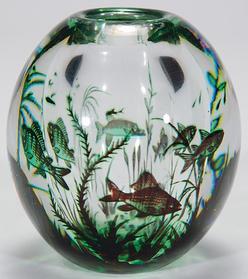 Orrefors' early forays into the world of Swedish art glass included crystal pieces, which the glassworks began producing in 1914. (Initially, they relied on designs purchased from English glassworks to make their cut and polished decorations.) Orrefors then began producing cameo vases that emulated the style of French heavyweights like Daum and Gallé. While the pieces of Art Nouveau glass made by Orrefors during this period never rivaled their French counterparts in quality, they provided the firm's artists with an essential opportunity for learning and experimentation. When Ekman and Ahlin finally decided that their existing designs did not sufficiently reflect the aesthetics of Swedish culture, the Orrefors team was ready to take on the challenge of producing wholly unique Swedish art glass. From the fertile pool of European influences the Orrefors artists had accessed (most notably an exhibition of Galle glass shown in the NK Department store), Knut Bergkvist drew inspiration for a revolutionary new glassmaking technique: Graal.
Graal Glass: The Pinnacle Of Swedish Glass Art
By the time Bergkvist began work on the Graal technique, the Orrefors team had expanded: Two new members, artists by the name of Simon Gate and Edward Hald, had joined in 1916 and 1917, respectively. One of these, the Matisse-trained Hald, was to prove essential in helping Bergkvist to develop and refine Graal glass.
A team effort from the outset, Graal glass was never meant to be made alone. Instead, it requires that two to four people work in concert with multiple layers of molten glass. The piece is slowly and painstakingly 'built up' as the various layers are carved, shaped, and finally encased in clear glass. Think of Graal as being akin to cameo glass, but wrapped in a layer of the finest, purest clear crystal.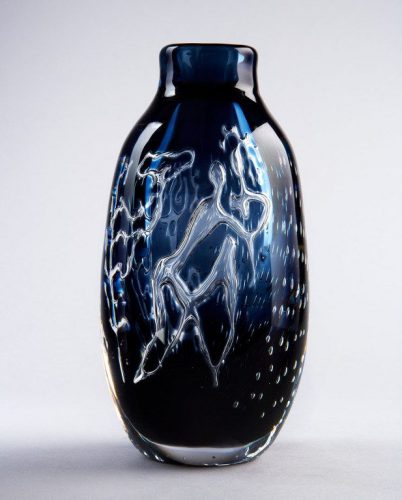 The result of this many-layered process is a three-dimensional effect that was, and is, peerless in its depth and intricacy. Flowers appear to be waving in an imaginary breeze, luminous fish look as though they are suspended in pristine Scandinavian waters, and opaque sections give the illusion of rocky surfaces projecting in front of a clear blue sky. Pieces of Graal glass seem to contain within them miniature worlds of magic and mystery.
With the invention of Graal glass, Orrefors finally found its stride within the world of European art glass. During the Paris Exposition of 1925, their designs and craftsmanship were acknowledged with numerous awards. Orrefors' reputation was further cemented with the 1928 addition of artist Vicke Lindstrand, whose range of enameled pieces stole the show at that year's Stockholm Exhibition. Lindstrand was later joined by Edvin Orhstrom (in 1936), whereafter the two artists developed yet another highly successful technique: 'Ariel'. The Ariel technique requires that a glass design be cut 5mm or more into a multi-layered blank. When the blank is overlaid with a clear bubble of molten crystal, air becomes trapped in the piece, creating a silvery reflective effect.
Other noteworthy Orrefors innovators include the engravers Nils Landberg and Sven Palmqvist. The latter would go on to invent several iconic Swedish art glass techniques: Centrifuge, kraka, and ravenna. Meanwhile, Landberg created elegant 'Tulip' vases that ascended to the pinnacle of fashion.
Orrefors would even hire a female glass artist (a relative rarity in mid-century glass design), the talented Ingborg Lundin, who joined the firm in 1947. She is best known for her 'Apple' design (which took home a grand prize at the 1957 Triennale in Milano); the Apple was yet another Orrefors piece that would help to define Swedish glass on the world stage. Following on Lundin's heels, the incredibly skilled silversmith Gunnar Cyren joined the company in 1959. His ability to combine silver and crystal is still revered as an example of profound artistic achievement.
Though Orrefors and Kosta Boda eventually merged, forming Orrefors Kosta Boda AB in 1990, Graal glass remains an enduring favourite. For many glass collectors, Graal glass more than lives up to its namesake: It truly is the 'Holy Grail' of glassmaking techniques, representing the zenith of what glass masters can achieve with patience, persistence, and collaboration.