The Art Nouveau and Art Deco Eras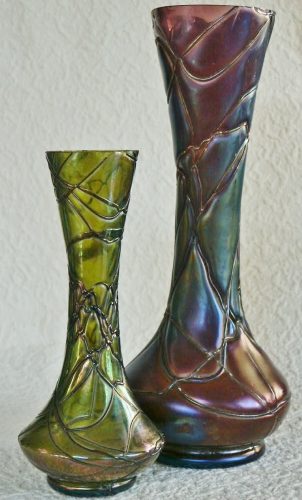 After the Napoleonic wars drew to a close in 1815, Bohemia was once again free to begin a steady ascent toward to the pinnacle of glassmaking, to retake the crown that had by then been passed to England. It would take some time before the Bohemian glass artists caught up, however, as the then-current and fashionable techniques in glassmaking had not been able to reach the Czech lands for over twelve years.
Persistence paid off eventually, as it so often does, and by the late 1800s, a new style of art was rising to prominence, which would prove to be a hand-in-glove fit for the Czech masters: Art Nouveau.
Art Nouveau, which was alternately known as Jugendstil (a term often applied to glass of this era), was envisioned as a total aesthetic theory (encompassing not only fine art, but also architecture, graphic art, interior design, and the decorative arts—everything from jewellery to furniture and textiles, utensils and lighting). Indeed, the whole mission of Art Nouveau was to make art a way of life, to abolish the elitist lines that had divided "high" art (such as painting and sculpture) from craft-based art. To those invested in Art Nouveau, everything—including life itself—could be Art.
Art Nouveau, being largely a reaction to the "academic art" of the 19th century, championed a return to natural forms, flowing lines, and unfussy decoration. Flowers, the female body, vines, leaves, and the moon were common motifs.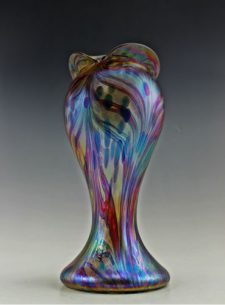 It is perhaps unsurprising that Czech glass artists, whose craft had undergone its genesis deep in the verdant woodlands of Bohemia, took beautifully to this new, natural style. Drawing on techniques pioneered by French artist E. Gallé and the American glassmaker L.C. Tiffany (notably metallic luster, iridescent elements, and heat-shaped decorations in the form of wound and combed fibres), the Bohemian artists soon cultivated their own unique twist on Art Nouveau glass (particularly Loetz Witwe, who created Phänomen Glass). They also helped to make "Tiffany style" glass affordable enough to become truly popular; Tiffany's Favrile glass, while it was much loved at the time of its debut, was far beyond the means of most people.
Loetz soon dominated the Bohemian glass scene, thanks to their early production of iridised glass and innovative designs. Iridised glass, known for its shimmering gasoline sheen, saw Loetz awarded numerous prizes (at the exhibition in Vienna in 1890 and in Chicago in 1893). Loetz was not the only game in town, however; around this time other Czech glassworks incorporated the techniques of Art Nouveau into some truly outstanding pieces—particularly Kralik, Rindskopf and Sons, Adolfov, Dvory, Harrachov, Košťany, and Polubný.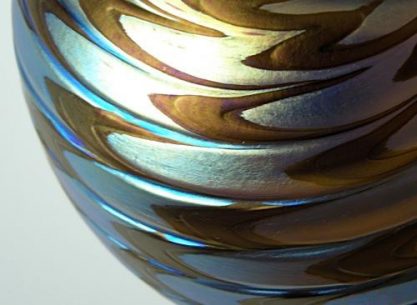 Bohemian Art Nouveau glass celebrated one of its greatest triumphs at the Universal Exhibition in Paris in 1900; among those who won prizes for their glass art at this massive, groundbreaking event was Loetz, honoured for his signature Phänomen Glass. This exhibition proved instrumental in bringing the Czech style back to the world's attention; Loetz's work was enthusiastically acclaimed, and many artists and producers began to imitate it, spawning a vast sea of knockoffs of varying quality. Along with other greats like Tiffany and the wildly creative French artist Rene Lalique, Bohemian art glass was soon once again esteemed as being the best in the world.
Indeed, many pieces of Czech Art Nouveau glass are so finely-made that it has, ironically, gone against the legacy of Bohemian glass artists; collectors of art glass from that era frequently try to pass Czech pieces off as Lalique glass (or try to pass off Kralik and other smaller, but appreciably skilled, manufacturers as Loetz), in hopes of getting higher bids at auction.
Bohemian art glass sold well right up until World War One when, of course, production went on hiatus due to combat yet again. There was also a devastating fire at the Loetz glassworks, a blow from which the company never truly recovered.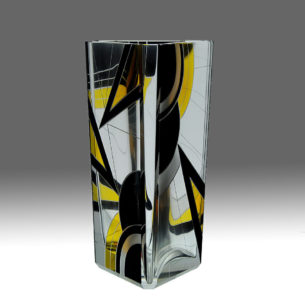 Despite the hardships of war, as Art Nouveau gave way to Art Deco during the 1920s and 30s, many Czech artists kept on producing admirable wares. While Loetz began to wither, largely owing to a lack of fresh designs and worsening financial problems, Kralik and other smaller glassworks kept pace with the times, maintaining a respectable degree of global renown. Still, while Art Deco-era Bohemia produced some impressive glassware, it never quite achieved the same glory as it had during its Art Nouveau zenith.
World War Two put the final nail in the coffin of many of the great historic Czech glassworks, and the furnaces of the Bohemian dragon fell into another period of quiet darkness. Thankfully, as our modern economy shifts to favour self-employment and the existence of specialised niche markets, Bohemian glass artists are once again emerging from the old forests and towns of Central Europe. In the deft work of artists like Daniel Stepanek, one can clearly see the dawn of a new era for Czech art glass, its light coursing boldly through metallic veins and dancing off precisely-combed surfaces.